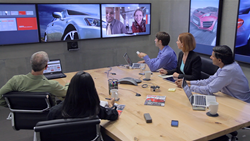 It has the potential to fundamentally change the way business gets done.
Los Angeles, CA (PRWEB) December 06, 2013
Oblong Industries has partnered with leading video communications provider AVI-SPL to offer its collaborative solution Mezzanine. AVI-SPL designs, builds and supports environments for telecommunications, video conferencing and telepresence, partnering with leading manufacturers like Oblong to improve the way organizations collaborate.
Mezzanine meets the needs of today's enterprises by connecting participants not just with video and voice, but with all of the content and data that each participant wishes to contribute to the meeting, within one room or across geographically distributed rooms. With Infopresence™, organizations can get beyond yesterday's presentation and video-conferencing solutions and unleash the power of information-centric collaboration.
Mezzanine is a spatially-aware, shared digital workspace that makes collaboration more seamless and productive. Meeting via Mezzanine means less dependence on travel (and travel costs) and leads to improved productivity, more engaging briefings and presentations, more effective teamwork, and better decision-making.
As a spatially-aware meeting environment, Mezzanine is a particularly powerful presentation tool. It brings a gesture-enabled interactivity to sales centers, showrooms, TV news desks and executive conference rooms that few have experienced first hand. The core technology has its roots in the MIT Media Lab, was the basis for the environments seen in the film "Minority Report," and represents a revolution in meeting room technology.
Said Oblong Industries' CEO, Kwin Kramer, "We could not be more thrilled to partner with AVI-SPL. To be able to form a strategic partnership with the global leader in video communications is ideal for bringing Mezzanine to the marketplace. It has the potential to fundamentally change the way business gets done."
"AVI-SPL customers expect us to bring them new and innovative ways to improve the collaborative experience," said AVI-SPL Executive Vice President of Video and Unified Communications Mike Brandofino. "We feel Mezzanine brings a fresh and interactive experience combining gesture control and content sharing into a meeting room environment. We are pleased to partner with Oblong to introduce a new way to collaborate to our customers."
About AVI-SPL
As the world's leading video communications partner, AVI-SPL designs, builds and supports the systems and environments that enable communication and collaboration. AVI-SPL has highly-trained and certified system engineers throughout its 40 offices across the United States, Mexico, Canada, the United Kingdom and the United Arab Emirates. Visit http://www.avispl.com for more information.
About Oblong Industries
Oblong Industries' innovative technologies and ideas are changing the way people work, play, and communicate. With roots in more than two decades of research at the MIT Media Lab, Oblong's flagship product, Mezzanine™, is a collaborative conference room solution defining the next generation of multi-user, multi-screen, multi-device computing. Mezzanine's groundbreaking Infopresence™ capabilities change the way distributed organizations work and produce. Oblong is headquartered in Los Angeles and supplies Mezzanine systems to Fortune 500 enterprise customers and reseller partners. Learn more at http://www.oblong.com or connect with us on Twitter, Facebook, Google+ and LinkedIn.