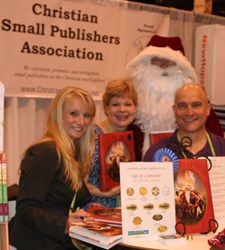 Warrenton, VA (PRWEB) December 06, 2013
Good St. Nick is being showered with gifts in the literary world as a new story told in verse that honors his history of gift-giving is recognized by the 2013 book award competitions. Gift of a Servant by Tamara Amos has earned recognition in eight categories of twelve literary competitions this year, most recently in the tenth annual USA Best Book Awards held by USA Book News.
Santa is definitely on the nice list this year, and here is the list of the awards he has won with Gift of a Servant:

USA Best Book Awards: Christian Inspiration – Winner
Moonbeam Children's Book Awards: Holiday – Silver Medalist
International Book Awards: Christian Inspirational – Winner
Mom's Choice Awards: Children's Religious Picture Book – Winner, Gold
Beverly Hills Book Awards: Holiday – Winner
Global Book Contest: Children's Fiction – Winner
Readers' Favorite Readers' Choice Awards: Inspirational Poetry – Winner, Silver
Indie Excellence Awards: Gift book – Winner
Indie Excellence Awards: Religious Children's Book – Winner
Indie Excellence Awards: Holiday – Finalist
San Francisco Book Awards: Spiritual – Runner-Up
Paris Book Festival: Spiritual – Honorable Mention
Hollywood Book Festival: Spiritual – Honorable Mention
New York Book Festival: Spiritual – Honorable Mention
Gift of a Servant is a fictional tale about a father who is disheartened by the commercialization of Christmas and waits up on Christmas Eve to demand retirement from Santa Claus. When good St. Nick arrives, however, he brings an unexpected gift: a glimpse into his soul where Dad realizes that the reason for Santa's annual visit is to bring "gifts of love from Heaven above" to God's children as symbols of His love for them. Published in 2013 by Mystical Rose Inspirations, written in verse by Tamara Amos and illustrated by David W. Luebbert, it is available in deluxe hardcover, e-book, and kindle editions on the website: giftofaservant.com, amazon.com, and in Christian book stores.