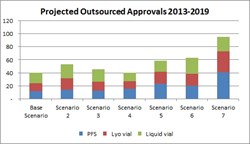 This is an extensive analysis of data on the injectables CMO industry and trends in approvals of injectable products. It includes supply and demand projections for lyophilization, aseptic vial filling and prefilled syringe capacity through 2019.
Fairfax, VA (PRWEB) December 06, 2013
In their latest Special Report, "The Demand and Supply for Contract Manufacturing of Injectable Drugs Through 2019," PharmSource experts provide a quantitative analysis on the latest trends and plans for outsourcing commercially approved injectable products.
Founded on the industry's most comprehensive database of the dose CMO industry - PharmSource's Strategic Advantage Database of Contract Service Providers - the analytical model and assumptions are fully explained so readers can understand how the analysis and conclusions were established. PharmSource is considered to be the most definitive, trustworthy source of strategic insight on this topic in the bio/pharmaceutical realm.
Projections are presented for key processing capabilities, including aseptic fill, lyophilized vials and prefilled devices such as syringes, cartridges and proprietary devices. The study analyzes the current capacity and planned additions to capacity of contract manufacturers, as well as the plans by major sponsors to increase in-house capacity.
This 80-page report gives important, expert insight that is not available in any other source. Over 25 tables and more than 20 charts and graphs throughout the report illustrate major points and trends. This report should be required reading for:

CMO executives: this report is an indispensable resource for understanding the industry and a critical input for strategic planning efforts.
Sourcing and procurement executives: this report is a critical resource for understanding crucial components of the supply base that will provide insights for supplier selection and management.
Private equity investors: this report gives a deeper understanding of the market and important insight for identifying potential investment targets.
To learn more about PharmSource's special reports, click here.
About PharmSource
PharmSource Information Services, Inc. is a respected provider of business intelligence on contract drug development and manufacture. PharmSource assists Biotechnology and Pharmaceutical companies in implementing and managing sourcing strategies and programs. They also provide business development products and services to companies that serve the biotechnology and pharmaceutical industries. Since 1996, organizations involved in contract Pharma services have continuously relied on PharmSource publications, databases, surveys and consulting services to provide timely, accurate information and analysis. Visit PharmSource on the web at http://www.pharmsource.com or contact them at +1-703-383-4903 (USA, eastern time-zone).