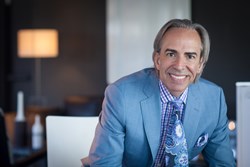 The clients wanted to make it special. We explored its full potential and decided to reconnect it with its warehouse origins.
Washington, DC (PRWEB) December 06, 2013
Studio Santalla was recently featured in the Late Fall issue of Home & Design, which recognized the work of Ernesto Santalla AIA LEED AP, and his team in transforming a sterile two-bedroom DC condo to a sleek, streamlined space that showcases the residents' modern art collection.
The feature is described after the transformation process, of which Home & Design details the condo, located on 14th Street, as boasting an edgy, industrial aesthetic vibe. Ernesto, working closely with the clients, made sure to highlight their modern art collection with strategic placement and custom furniture featuring sliding panels. Additional highlights include the sleek, custom bath, a black leather B & B Italia sectional, and a mosaic cowhide rug pieced together in patches for a modern take on a classic material.
The architectural and interior design firm in DC combines both services to build any end result, making for the best of both worlds. Santalla, an architect and interior designer with 30 years of experience, has mastered the skillful combination of all that goes in to a construction project from very technical issues like building codes, to details like furniture selection & design, lighting, textiles and accessories.
Studio Santalla works with residential and commercial clients in the greater DC area, New York, and Miami. Their projects have the benefit of the long-term expertise brought from the design and execution of previous work. Technologies, building materials and lifestyle preferences change, but good design principles stand the test of time. The difference is the context: a project's location, its purpose and for whom it is designed. For these reasons, Studio Santalla's work is unique because of each new set of opportunities and challenges.
To read the Home & Design article in full, visit: http://www.homeanddesign.com/article.asp?article=21531. Home & Design Magazine is one of the leading publications for luxury consumers in the Baltimore-Washington region. It was founded in 1999, and features inspiration for kitchen and bath design, high-end furniture, home-technology appliances, custom building solutions, interior design and architecture, and more.
About Studio Santalla:
Ernesto, president of Studio Santalla, inc., was born in Cuba and received a degree in Architecture from Cornell University in 1984, following which he moved to Washington, DC, and became a registered architect. Since then, he has contributed to the changing skyline of DC and worked on projects in the United States, Puerto Rico, and Europe. His work has been widely published and received numerous awards.