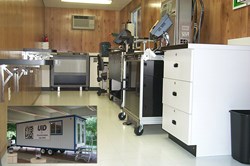 Founder Gary Moe comments, "The Chinook program predated the current policy by 3 years. While working on this project, everyone realized that simply marking 'new' components would not work. They would need to mark parts already in use in the field."
Mulkilteo, Washington (PRWEB) December 12, 2013
Recently, ID Integration celebrated its 10-year anniversary of providing the U.S. Army their first IUID Opportunistic Mobile Marking Trailer. This past summer, ID Integration's Chinook CH-47 IUID Legacy Part Marking Support Contract was extended through January 2015. The Mukilteo, WA vendor now claims the title for offering the longest, continuous, IUID marking program for the DoD.
"We went in early on," said Gary Moe, ID Integration President and Founder. "It was around the time when the Data Matrix code was beginning to get traction in the market. In early 2000, we started working for Boeing Philadelphia on the Chinook Helicopter IUID Legacy marking program. The Project Manager for the Army's Cargo Helicopter Program, Colonel Tim Crosby (now Major General Crosby) was looking for a better way to perform maintenance and track the program's assets. Today, they have a much better system in place. We took them from a manual read/write system to a computerized system utilizing the IUID data."
"The IUID program was 10 years old in July," Moe continued. "The Chinook program predated the current IUID policy by three years. While working on the ID Integration Chinook project, everyone realized that simply marking 'new' components would not suffice. They would need to mark parts that were already in use in the field."
The legacy IUID ID Integration Mobile Parts Marking Trailer provides:
-Mobile system consisting of COTS equipment, software and supplies.
-Multiple marking options in one mobile integrated system:
-Laser Marked DuraBlack Labels and Data Plates
-Laser Marked TESA and 3M material
-Ink Stencil Marking using Silkscreen Ink Stencils
-Dot Peen Marking
-Laser Marked Anodized Aluminum Labels
-Direct Laser Marking on Metal and Plastic Material
-Cloth marking and polyester labels
-Marking and Verification System Center of Excellence
-Marking and Verification systems to integrate with the IUID Data Management Software
-Marking systems on mobile carts that can be deployed outside of the Trailer in shop areas for added flexibility
-Research and Development of best marking techniques
-Creation of part marking work instructions
-Field Support Labor
"Our goal was to make the inside of the trailer like an ergonomic marking/verifying work cell," Moe explained. "Helicopters were being overhauled and it was a perfect time to mark parts in the field. With our self-contained trailer, we were able to make it much easier to accomplish the task."
ID Integration hired and trained five service disabled veterans to provide part marking and data collection labor to the Army. The company now has over 80,000 man-hours of experience in working in mobile part marking trailers to mark parts to meet the IUID requirements. All of the ID Integration field technicians are experienced CH-47 maintenance personnel in addition to their unique qualifications and experience in Opportunistic Parts Marking performance.
ID Integration currently is providing IUID marking services at five different Army bases:
-Fort Campbell, KY
-Fort Rucker, AL
-Fort Stewart-Hunter Army Airfield, GA
-Joint Base Lewis-McChord, WA
-Fort Wainwright, AK
ID Integration has designed and manufactured nine IUID Mobile Marking Trailers and delivered five Mobile Marking Trailers to the Army. The first trailer was delivered in 2003 and an additional four Trailers were delivered in 2004.
Within the program today, data cleansing is occurring in conjunction with remarking. The goal is to weed out bad data. The ID Integration team handles a lot of this for the government. "We use barcode scanners with ID Integration developed BarCodeOS software suite to take photos of data plates in the field," Moe told us. "We find and fix many problems. We have built intelligence into our scanners. Today, you can even use smart phones in the field to scan and create data plates."
"We have developed software applications for collection of legacy IUID data and registration," said Moe. "We have also developed bar code scanner applications where the field teams are taking pictures of legacy Chinook parts and cataloging them in a web based application by helicopter tail number."
In closing, Moe shared, "We learn something new every time we go on-site. Our support contract has also been extended, so we will continue to find new ways to support our soldiers and make their lives safer. It is very gratifying to know we have helped pioneer a system that, in some cases, saves lives."
ID Integration, Inc.
ID Integration, Inc. is a leading systems integrator providing over 20 years of solutions for IUID and ATA Spec 2000 with specific experience in the integration of systems for direct part marking, RFID tracking, and label printing within a wide range of industrial manufacturing, depot, and overhaul facilities. ID Integration's proficiency in integrating complex solutions that include marking/printing and reading/verification turnkey systems delivers permanent marking solutions for both legacy and newer parts, while enabling customers to successfully meet and exceed challenging compliance requirements throughout the commercial aerospace and defense industries; including Spec 2000, DoD, and NATO IUID specifications. Our team also provides solutions for IUID data management, registration software, and even asset management using both barcode and RFID technology. ID Integration's headquarters are located in Mukilteo, Washington and more information is available online at http://www.id-integration.com.