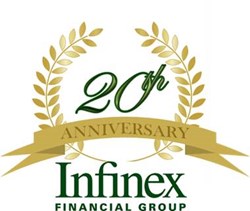 Meriden, CT (PRWEB) December 10, 2013
Brian Allsop joined Bank of Canton in Massachusetts in 1999 and is an Investment Executive with Infinex Financial Group.
"Brian has always been focused on improving his practice and is never satisfied with doing the same old thing" said Stephen P. Amarante, President and Chief Executive Officer of Infinex. "Brian has been with Infinex for over 13 years. He continually looks for new ideas by attending industry seminars and other best practice forums. Brian's business continues to grow and we are all very proud of him and this great achievement of sales excellence."
The Bank Investment Consultant "Top 50 Bank Advisors" list recognizes the most successful bank and credit union advisors based on several key areas including: assets under management; percentage growth in assets under management from the prior year; trailing 12-month production; percentage growth in T-12 production; amount of fee-based business; and the ratio of production to AUM.
Infinex is celebrating its 20th anniversary as an independent broker dealer focused on serving the investment, insurance, and wealth management needs of financial institutions. Currently, Infinex supports over 200 financial institutions and more than 450 advisors. The firm, headquartered in Meriden, CT and Glen Allen, VA has a unique history of being formed by banks, owned by banks, and focused on providing service to financial institutions.
Financial institutions or advisors interested in learning more about Infinex can contact the Business Development Team at 1-800-218-2827 or visit http://www.infinexgroup.com.
Investment and insurance products and services are offered through Infinex Investments, Inc. Member FINRA/SIPC. Infinex and the bank are not affiliated. Products and services made available through Infinex are not insured by the FDIC or any other agency of the United States and are not deposits or obligations of nor guaranteed or insured by any bank or bank affiliate. These products are subject to investment risk, including the possible loss of value.