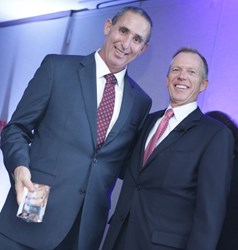 "We believe Mazor Robotics understands the importance of partnership and deserves recognition."
Orlando, Fla. (PRWEB) December 06, 2013
Mazor Robotics has been recognized as an organization that is advancing healthcare through innovation and collaboration by Florida Hospital. The Partnership Innovation Award is given every two years by Florida Hospital, a 22 hospital system across the state of Florida, and recognizes companies that utilize partnerships and innovation to provide patients with the highest level of care.
"Healthcare is changing," said Lars Houmann, Florida Hospital president and CEO. "Finding solutions to the healthcare issues that impact all of us won't just be solved by one hospital or company. It will require a team approach from industry professionals across the nation. We believe Mazor Robotics understands the importance of partnership and deserves recognition."
The award presentation is part of a two-day National Council of Presidents event that invites senior executives from the health and science industry as well as community leadership, research institutions and government officials to come together in Central Florida. The purpose of the meeting is to share research and business strategies to transform the healthcare industry in the United States while improving patient care, reducing the cost of healthcare and addressing important population health concerns. This year, 19 partners received the Partnership Innovation Award during the National Council of Presidents.
"Mazor Robotics is honored to receive the Partnership Innovation Award from Florida Hospital. Partnership with leading healthcare organizations, such as Florida Hospital, is a key initiative in accomplishing our ultimate goal of helping to improve clinical outcomes and raise the standard of care for patients." Ori Hadomi, CEO of Mazor Robotics.
Click to learn more about the benefits of partnership with Florida Hospital.
Click here to learn more about Mazor Robotics.