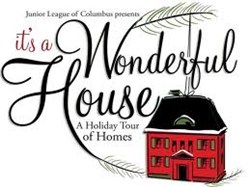 Each home is unique and should give attendees decorating ideas and, at the same time, help to raise money for a great cause.
Columbus, OH (PRWEB) December 06, 2013
The Junior League of Columbus hosts its annual Holiday Tour of Homes Saturday, December 7, 2013, in the Sanctuary neighborhood in Worthington, Ohio. Five beautiful homes will be decorated for the holidays and available for tour between 10:00 a.m. and 5:00 p.m.
The homes on the tour will be adorned for the holidays to reflect each family's traditions and values, and decorations include those from professional designers and from the homeowners themselves. "The decorators and our neighbors have been staging and decorating non-stop in preparation," said Melissa Kruse, a League Sustaining Member and one of the homeowners. "Each home is unique and should give attendees decorating ideas and, at the same time, help to raise money for a great cause."
"The Holiday Tour of Homes is a wonderful event to share with family and friends to kick off the holiday season. Many attend annually as part of their holiday season," said Junior League of Columbus President Karlye Martin. "The homes never disappoint with beautiful decor and wonderful holiday decorations to leave you inspired."
The tour begins on Lake Bluff Drive in the Sanctuary. Guests can pick up their tickets and a map of the tour at house #1. Parking is located at Worthington Christian Church, located at 8145 N. High Street. A comfortable shuttle will be available every 15 minutes to safely transport tour guests to and from the tour location.
Tickets can be purchased by calling 614.464.2717 or by visiting http://www.jlcolumbus.org. Tickets are $20 and are available in advance or at the event. "The proceeds go to supporting the mission of the Junior League of Columbus, "said Martin. "The projects of the Junior League of Columbus focus on educational readiness, including the Adopt-a-Backpack for Children (ABC) project, Kids in the Kitchen and the Kelton House Museum & Garden, plus the Underground Railroad Learning Station."
The Junior League of Columbus will kick off its Holiday Tour of Homes with a preview party and silent auction on Friday, December 6, 2013 from 7:00 p.m. - 10:00 p.m.at the home of Sustainer Melissa Kruse. Specific location information will be available upon purchase. Tickets are $50 each and include two drink tickets and heavy appetizers.
About the Junior League of Columbus
Founded in 1923, the Junior League of Columbus is an organization of women committed to voluntarism, developing the potential of women, and impacting communities through the effective action and leadership of trained volunteers. Our purpose is exclusively educational and charitable. As a 501 (c) (3), the Junior League of Columbus is a leading resource for trained volunteers. Through our programs and the Kelton House Museum and Gardens, we educate the community, preserve the past and build for the future of Columbus. The Junior League of Columbus is a member of the Association of Junior Leagues International, comprised of 292 Junior Leagues in four countries. For more information, please go to http://www.jlcolumbus.org.
About Melissa Kruse
Melissa Kruse is a co-founder and partner of Columbus, Ohio based Gryphon USA, Ltd., the parent company of Gryphon Asset Management, Gryphon Auction Group and Gryphon Political Strategies.
Before founding Gryphon, Mrs. Kruse was a White House aide, focusing on international presentation of US policy to domestic and foreign government officials, trade negotiations and international business outreach to US and foreign corporations, as well as media and public relations coordination for various White House departments.
Mrs. Kruse is the former Chair of the Corporate Partnership Committee for the Columbus Jr. League, as well as a Sustaining Member of the organization, and participated in the 2004-2005 Leadership Columbus program designed to encourage and promote community activity and expand local leadership growth in Ohio and beyond. She is active in local and national politics working with candidates and other organizations advising on public policy, political strategy and finance.