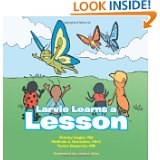 (PRWEB) December 05, 2013
Larvie Learns a Lesson (AuthorHouse Press; Publication date: June 1, 2013) tells the story of a lovable caterpillar named Larvie who watches too much television and eats too much junk food. When the time comes for Larvie to spin a cocoon to become a butterfly, he finds himself too large and out of shape to become the beautiful creature he is meant to be.
With the support of his parents, his bug doctor, and his friends, Larvie embarks on a new regimen of regular exercise and eating healthy fruits and vegetables. In no time at all Larvie is back in shape, happier than ever, and ready to embark on his transformation into a butterfly.
Larive represents the best in all of us. Children will enjoy watching Larvie transform himself from a caterpillar slug into a beautiful healthy butterfly. While reading Larvie Learns a Lesson, kids will learn about the real life risks of becoming obese: diabetes, high blood pressure, and other health risks. In the end, children will take Larvie's story to heart and will enjoy their own ability to take action to live healthier lives.
A bold and romping adventure, Larvie Learns a Lesson provides a positive and fun way to learn life lessons about living healthily.
"As parents, we completely understand the ongoing challenge to get kids to make healthy choices," said co-author Dr. Mickey Seger. "And as physicians, we understand the devastating health complications brought on by obesity, starting at a very young age. We were inspired to write Larvie because we wanted to offer a way for parents to talk to their children about the importance of a healthy lifestyle."
Co-authors Dr. Terive Duperier, Dr. Mickey Seger and Melinda Gonzalez will sign copies of Larvie Learns a Lesson in San Antonio on Saturday, December 14, 2013 at The Twig bookstore, located at 306 Pearl Parkway in the Historic Pearl Brewery. The book is available online at http://www.amazon.com.
About the Authors:
Dr. Terive Duperier and Dr. Mickey Seger are the co-founders of BMI of Texas, which provides innovative and comprehensive medical and surgical care to patients with obesity and metabolic disease. Both surgeons are highly experienced in laparoscopic bariatric and general surgery procedures and have helped thousands of patients lose weight, improve their health and lead a more active life. BMI of Texas Physician Assistant Melinda Gonzalez is focused on patient education and helping patients feel more comfortable on their weight loss journey, whether they choose to pursue a medical program or weight loss surgery. The BMI of Texas team is dedicated to creating meaningful relationships and experiences with their patients and the community in order to overcome obesity and metabolic disease -- fostering improved health and a better quality of life.
For more information, visit http://www.bmioftexas.com.