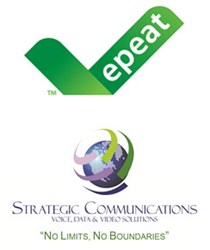 EPEAT offers a single platform where we can research green computers and IT products, saving us time in finding the information we need. -- Kathy Mills, CEO of Strategic Communications
Louisville, KY (PRWEB) December 05, 2013
Strategic Communications, a premier provider of communication, data and video solutions, announced today it has joined the EPEAT® Channel Partner program. The decision reinforces Strategic Communications' dedication to offering expert guidance in environmentally preferable electronics.
As an EPEAT Channel Partner, Strategic Communications gains improved access to the EPEAT Registry enabling Strategic to efficiently review credible environmental ratings for electronic products. EPEAT is the definitive global rating system for greener electronics. Thousands of products designed to meet stringent environmental criteria are registered in EPEAT, the leading resource for finding technology designed to minimize impact on the planet.
"We believe it is important for our company to be environmentally responsible. We joined EPEAT in hopes of helping the environment become more sustainable, but also strive to provide environmentally safe products to our customers," said Kathy Mills, CEO of Strategic Communications.
EPEAT is a purchasing requirement for U.S. federal agencies and is integrated into hundreds of government, education, healthcare and enterprise IT contracts worldwide. In addition, EPEAT is becoming an integral part of the IT channel, with leading distributors and resellers like Strategic Communications using EPEAT programs to support their customers' green purchasing initiatives for PCs, displays, televisions, printers, copiers, multifunction devices and other Imaging Equipment.
"When the EPA (Environmental Protection Agency) launched the Federal Electronics Challenge, we wanted to jump onboard. EPEAT allows us to be part of something that has a significant impact on the future of our planet. With the bulk of our business coming from the federal government sector, we believe our partnership with EPEAT will strengthen our ability to support government agencies in attaining their goals for environmental and energy efficiency along with cost reduction," Mills said.
EPEAT Channel Partners commit to provide EPEAT product rating information in their catalogs and to train their sales staff to support customers' EPEAT purchasing and model contract requirements. EPEAT Channel Partners have access to training, materials and support through the program.
"This program provides us with the user-friendly resources, information and training we need to be successful in applying green initiatives internally as well as identifying environmentally friendly products for our clients," said Mills. "EPEAT offers a single platform where we can research green computers and IT products, saving us time in finding the information we need."
Strategic Communications is a premier integrated provider of national IT services and infrastructure solutions, offering engineering and network installation for voice, data, video, security and wireless solutions. For over fifteen years, the company has provided its commercial and government customers with affordable turnkey solutions at competitive prices with outstanding service and support. Strategic is constantly updating their solution portfolio to meet the rapidly changing IT environment. As a result, Strategic is excited to introduce its new, state-of-the-art Cloud solutions to its customers. For more information, please visit http://www.yourstrategic.com/.
EPEAT is the definitive global registry for greener electronics. EPEAT combines strict, comprehensive criteria for design, production, energy use and recycling with ongoing independent verification of manufacturer claims. More than 533 million EPEAT-registered products have been sold worldwide since 2006, resulting in significant environmental benefits. EPEAT was developed through a stakeholder consensus process and is managed by the Green Electronics Council, a non-profit organization based in Portland, Oregon. Learn more at epeat.net.