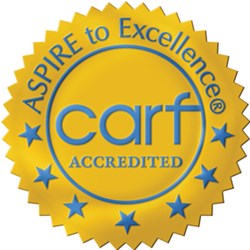 "This achievement is an indication of your organizations dedication and commitment to improving the quality of the lives of the persons served. Services, personnel, and documentation clearly indicate an established pattern of pract
Newport Beach, CA (PRWEB) December 11, 2013
A CARF Three-Year Accreditation was awarded to Northbound Treatment Services on November 26, 2013 for:

Detoxification
Residential Treatment
Day Treatment
Intensive Outpatient Treatment
Outpatient Treatment
Community Housing
This accreditation will be in place through October 2016.
About CARF Accreditation:
Accreditation is an official recognition that our organization is guided by internationally recognized service standards and best practices. CARF accreditation consists of ongoing consultation and in-depth on-site reviews to help our organization achieve the highest quality of care for our customers. Accreditation is a public statement that our organization strives to ensure that our services are of the highest possible quality. Accreditation demonstrates to customers that our organization is committed to reducing risk, addressing health and safety concerns, respecting cultural and individual preferences, and providing the best possible quality of care. CARF International provides a framework, then consults and advises health and human service organizations, to help improve their service quality. CARF International is a nonprofit accreditor of health and human services. Its goal is to ensure that persons served remain at the center of the service delivery process.
Northbound is proud to announce our accreditation and to be recognized for our established strengths. This is the end of a chapter dedicated to preparation and alignment of resources and personnel to achieve this goal. But more importantly it is the beginning of a new chapter for Northbound; one that is accredited by CARF, based on a unique business model that truly values the health of our organization, staff and stakeholders, and hyper-focused on delivering the Northbound Experience. "This accreditation highlights our commitment to help our clients find new direction and strength on the road to recovery. Like our leadership, organization, and results, our brand tells a story. It's a story of clarity and direction. It's a story of purpose and alignment and speaks to the realization of our mission and the pursuit of our vision. This stamp of approval from CARF International both validates our efforts, and positions us as a defined leader in this industry." Mike Neatherton CEO Northbound
About: Located in Southern California, Northbound Treatment Services is a nationally recognized alcohol and drug addiction treatment center that offers an array of treatment programs designed to address the varying needs of individuals and families suffering from chemical dependency. Learn more about the Northbound Experience at http://www.livingsober.com.