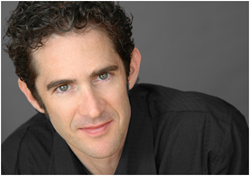 New York, NY (PRWEB) December 06, 2013
Pace Performing Arts' (PPA) is pleased to announce Tony Award-winner Andy Blankenbuehler as a guest artist in its Commercial Dance program for the fall 2013 semester. He is currently the choreographer for the 2012 Broadway revival of Annie.
As guest artist, Blankenbuehler will teach master classes and stage DO WAH DO, a piece from his new theater project Only Gold. The work will be presented at Dancespace on December 15, 2013 at Pace University.
"Andy Blankenbuehler is one of the brightest choreographers working in the commercial theater. It has been a pleasure watching him teach and create work with our young artists in the Commercial Dance program," said Rhonda Miller, head of Commercial Dance.
Blankenbuehler won the 2008 Tony Award for his choreography of In the Heights. His work on In the Heights also garnered the Lucille Lortel Award; the Joe A. Callaway Award; the Outer Critics Circle Award and the Drama Desk award. His other Broadway credits include Bring It On, 9 to 5, The People in the Picture, and the revival of The Apple Tree.
"We believe it essential to provide our students opportunities to work with accomplished professionals like Andy. Such opportunities prepare our students for professional success and further enrich the educational experience we provide," said Dyson College dean Nira Herrmann.
About Pace Performing Arts:
Pace Performing Arts offers Bachelor of Fine Arts degrees in Acting; Acting for Film, Television, Voice-Overs and Commercials; Commercial Dance; Production and Design; and Musical Theater. It also offers Bachelor of Arts degrees in Acting and Directing under the International Performance Program. For more information contact Wayne Petro at wpetro(at)pace(dot)edu.
About the Pace Performing Arts Commercial Dance program:
PPA's Commercial Dance program is one of a kind in New York City offering comprehensive dance training that bridges the gap between classical dance technique and the professional world of commercial dance. The program prepares students for diverse careers on stage, television, film, and the entertainment industry. Commercial Dance students train with leading professionals in ballet, jazz, modern, theater dance, tap, contemporary, hip hop, and aerial work as well as in acting, singing, and technical theater.
About Dyson College of Arts and Sciences:
Pace University's liberal arts college, Dyson College offers more than 50 programs, including PPA, and spans the arts, humanities, natural sciences, social sciences, and pre-professional sciences (including pre-medicine and pre-law), as well as numerous courses that fulfill core curriculum requirements. The College offers access to numerous opportunities for internships, cooperative education and other hands-on learning experiences that complement in-class learning in preparing graduates for career and graduate/professional education choices. http://www.pace.edu/dyson
About Pace University:
For more than 100 years, Pace has produced thinking professionals by providing high quality education for the professions on a firm base of liberal learning amid the advantages of the New York metropolitan area. A private university, Pace has campuses in New York City and Westchester County, New York, enrolling nearly 13,000 students in bachelor's, master's, and doctoral programs in its Lubin School of Business, Dyson College of Arts and Sciences, College of Health Professions, School of Education, School of Law, and Seidenberg School of Computer Science and Information Systems. http://www.pace.edu