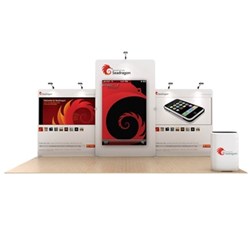 The kits are composed entirely of modular components that can be rearranged in minutes to suit a wide variety of booth sizes, shapes, and locations.
Grayslake, IL (PRWEB) December 06, 2013
APG Exhibits, a premier online provider of trade show signage and branded marketing materials, is now featuring the new Waveline Media trade show display kits via their e-commerce platform. These kits, designed specifically for exhibitors who require flexibility in their booth configuration, are composed entirely of modular components that can be rearranged in minutes to suit a wide variety of booth sizes, shapes, and locations.
APG Exhibits President Matt Baron explained, "Our most popular request in the past year has been for turnkey kit solutions that can be easily adapted for multiple exhibiting situations. Many times our clients want to secure their displays early in trade show season, at a time when they may not yet know the size or location of their booth areas. These Waveline Media kits provide them the peace of mind that, no matter where they end up, they'll have a display that will suit their needs."
The Waveline Media kits are tension fabric-based, meaning that most of the components involve two parts: an internal hardware skeleton made of snap-together aluminum tubing and then a dye-sublimated knit-polyester fabric graphic that slips over the frame and zips closed to envelop it entirely (popularly referred to as a "pillowcase" graphic). Each kit includes multiple pieces that can be configured however the exhibitor wishes, as well as a number of optional add-ons that can increase functionality even more.
The most popular of these kits are the 20-foot versions, due to their additional ability to convert easily to fit both 20-foot and 10-foot spaces, as well as inline, corner, and island booth locations. To help illustrate the supreme versatility of these kits, APG Exhibits' website is also showcasing a special video that shows how various components can be added, subtracted, and rearranged for a nearly-limitless number of configuration possibilities. Additionally, every Waveline Media kit is backed by APG's industry-leading Low Price Guarantee, giving exhibitors of all sizes and budget levels access to these unique trade show displays.
For more information about APG Exhibits or their line of Waveline Media tension fabric display kits, please contact APG Exhibits at 866-752-2192, or use the email link provided.
APG Exhibits is a premier online provider of trade show displays, outdoor exhibits, custom booths, promotional giveaways, custom banners, trade show flooring and more. APG Exhibits' mission is to provide high-quality trade show display products and outstanding customer service at the guaranteed lowest prices. Contact Customer Support at 866-752-2192 or visit apgexhibits.com for more information.