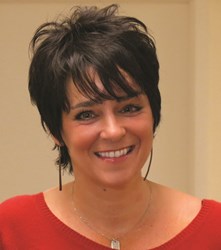 If you live, laugh, love, and respect yourself - all good things will come to you.
Dallas, TX (PRWEB) December 13, 2013
New Book "HEADSTRONG: Surviving A Traumatic Brain Injury Without Losing My Mind" (Brown Books Publishing Group) by Donna Valentino provides readers with valuable life-saving tips, hope, and resiliency. A true story that proves the right attitude can get anyone through the journey.
Valentino is a powerhouse of positive energy with a lot to be grateful for this holiday season. She is living proof that the triumph of the human spirit and mind makes all the difference.
"I survived a traumatic brain injury because my competitive, stubborn, and headstrong nature wouldn't hear of it any other way," says Donna. "If you live, laugh, love, and respect yourself, and respect others, all good things will come to you."
Her message is simple:

Don't give up.
There a reason why this happened.
There is no answer to the why question.
Be strong.
Have a positive attitude.
Demonstrate incredible levels of courage, and faith.
Learn to break free of mental bonds, and allow "the clouds to lift you as you improve."
Valentino is still on the rehab train, and probably will be for the rest of her life. Her major takeaway is, "to embrace the person you've become, and pay it forward."
To learn more, visit: http://www.HeadstrongTheBook.com.
Books are available online and in bookstores.
About the Author
Donna Valentino was born and raised in Queens, New York. She married in 1987 and had two children, Nikki and Jordan. She coached her son's soccer team, managed both kid's basketball teams, and stayed active in the PTA. She also played tennis on a team with good friends for seventeen years.
On February 7, 2009, Donna's life as she knew it was forever changed. As a result of a traumatic brain injury, all the physical activities she once treasured became impossible. Enjoying time with her two children was put on hold. Now, after years of recovery and rebuilding her life, she wrote "HEADSTRONG" as part of a new beginning. Donna lives in Dallas, Texas and has been a guest speaker at numerous events.
About Brown Books Publishing Group
Founded by Milli Brown in 1994, Brown Books Publishing Group is a full-service, independent publisher of high-quality books across all genres, from non-fiction to fiction. Committed to producing award-winning books for authors who choose to retain the rights to their intellectual property, Brown Books publishes more than one hundred titles a year and has won numerous, prestigious awards including the Writers Digest Grand Prize, Mom's Choice Award, Foreword Book of the Year, Gold Ink Award, Axiom Business Book Award and many more. Brown Books authors have appeared on programs such as Piers Morgan Live, Oprah, the Today Show, FOX News, Face the Nation, CNN, and BBC News. They have been featured in publications such as USA Today, Publishers Weekly, and the New York Times. In addition, they have been guests on NPR programming, including The Diane Rehm Show, Morning Edition, The Takeaway, and Tell Me More.
# # #