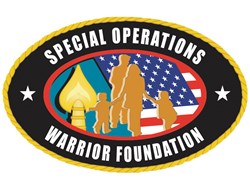 Since 2005, the Special Operations Warrior Foundation has provided post-secondary educations, counseling and mentorship to the children of the men lost in this mission.
Tampa, FL (PRWEB) December 06, 2013
In an interview with Anderson Cooper on "60 Minutes" that will air Sunday, Dec. 8 at 7 p.m. Eastern Time on CBS, Special Operations Warrior Foundation President Joe Maguire, a retired Navy SEAL and vice admiral, explains the SOWF's support of the surviving spouses and children of the men who lost their lives during a mission code-named Operation Red Wings eight years ago.
On June 28, 2005, a team of four Navy SEALs engaged Taliban fighters in a gun battle in the Hindu Kush Mountains of Afghanistan, while searching for a regional Taliban leader.
Three of the four were killed, as were eight additional Navy SEALs and eight men from the Army's 160th Special Operations Aviation Regiment – the Night Stalkers – when their Chinook helicopter was shot down while trying to rescue the team on the ground.
Three of the 19 sons and daughters of these fallen heroes have graduated from college on SOWF scholarships, while four are currently pursuing degrees. The Warrior Foundation will fund college for the youngest children when they reach college age.
Since 2005, the foundation has provided not only a post-secondary education, but counseling and mentorship to the children of the special operators lost in this mission.
On Jan. 10, 2014, the movie "Lone Survivor" will be released by Universal Pictures. It's based on the book of the same name by Marcus Luttrell, the SEAL who, though badly wounded during Operation Red Wings, escaped and was later rescued.
The Special Operations Warrior Foundation is a top-rated nonprofit organization that has been providing support and assistance to the families of fallen Army, Navy, Air Force and Marine Corps special operations personnel since 1980. To date the SOWF have more than 1,000 sons and daughters of fallen warriors in their program.