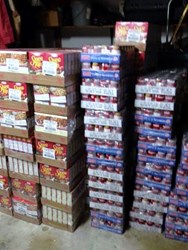 Port St Lucie, FL (PRWEB) December 10, 2013
The holiday season is underway, and one local business is finding a powerful way to exercise their spirit of giving through supporting those in need in their community. The personal injury firm Steinger, Iscoe & Greene, with offices throughout the state of Florida, has chosen several child care and family-based charities to sponsor, including a relatively new not-for-profit food distribution program called Family Meals, Inc.
With the help of Steinger, Iscoe & Greene, Family Meals, Inc. is holding its inaugural Christmas Fundraiser at the Fort Pierce River Walk on Friday, December 13, 2014. The event will host a live auction, drinks, appetizers, desserts and live music for Guests and sponsors. Tickets are $35.00 per person and donations go towards providing a cook-ready Christmas meal for families in need. These meal bags will be delivered to families' doors so they can prepare a holiday meal in their homes, with their families, the way they like it.
Family Meals, Inc. is dedicated to bringing families together around the dinner table by providing ingredients and recipes for meals everyone in the family can help prepare. Founder Martha Taylor started with a vision to bring back the importance of family meal time, and alongside her board (Jan Autin, Myrna Boman and Debbie Read) has grown that vision into a developing non-profit distributing meal bags to over 1,000 families in need this holiday season.
With such a tremendous growth in so short a time, Steinger, Iscoe & Greene is proud to sponsor such a kind-hearted and thoughtful charity. For more information, and to learn how to contribute your time, visit http://www.familymealsinc.org.