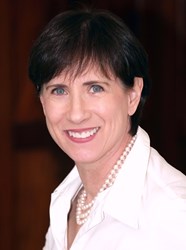 New York, NY (PRWEB) December 07, 2013
Susan S. Wallach, JD, has been elected to the Board of Trustees of Pace University in New York, Pace President Stephen J. Friedman announced.
Wallach joins the Board at a time of great change. Pace has recently experienced several years of growth with higher enrollments, new academic programs, national recognition for the high employment rate and earning power of Pace graduates, and significant investments in the learning and living facilities on Pace's campuses in New York City and Westchester. This year Pace celebrates the 50th anniversary of its Pleasantville location.
"Susan Wallach is a marvelous addition to our Board of Trustees," said Friedman. "Her unwavering belief that one person can make a difference by applying skills and passion to worthy endeavors will no doubt have a profound impact on our students–the aspiring heart of America."
"I am so pleased to welcome Susan to our Board," said Board Chairman Mark M. Besca, '81. "Her accomplishments in the legal and academic arenas speak for themselves and will help us as we continue Pace's commitment to academic excellence and the overall student experience."
"I am thrilled to be joining the Pace Board," said Wallach. "The university is on an excellent trajectory, with a forward-looking president and dedicated trustees."
Wallach served as a member of the Harvard University Board of Overseers from 2005 to 2011 and is currently chair of the dean's advisory council at the Radcliffe Institute for Advanced Study at Harvard. As a trustee of Radcliffe College, she played a central role in the negotiations between Radcliffe College and Harvard University leading to the creation of the Radcliffe Institute in 2000. Last year she received the Harvard Medal for extraordinary service to the university.
Wallach is currently a trustee of Deerfield Academy and a director of the Harvard Law School Association of New York City, as well as a member of advisory councils or committees at the Harvard Graduate School of Education, Harvard College, Columbia University, New York University and Louisiana State University.
Wallach graduated cum laude from both Harvard/Radcliffe College and Harvard Law School. Wallach retired in 2005 from law practice after 34 years. She spent much of her career at the law firm of Schulte Roth & Zabel in New York. She lives in New York City with her husband, Kenneth L. Wallach. They have two grown children, Dana Wallach Jones and Keith N. Wallach, and three grandchildren.
About Pace University: Since 1906, Pace University has educated thinking professionals by providing high quality education for the professions on a firm base of liberal learning amid the advantages of the New York metropolitan area. A private university, Pace has campuses in New York City and Westchester County, New York, enrolling nearly 13,000 students in bachelor's, master's, and doctoral programs in its Lubin School of Business, Dyson College of Arts and Sciences, College of Health Professions, School of Education, School of Law, and Seidenberg School of Computer Science and Information Systems. http://www.pace.edu
Media Contact: Cara Cea, 914-906-9680, ccea(at)pace(dot)edu.