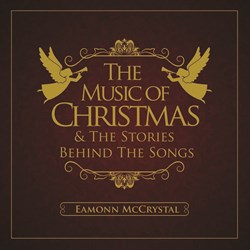 Los Angeles, CA (PRWEB) December 08, 2013
Eamonn McCrystal is pleased to announce the release of his new Christmas album, "The Music of Christmas & The Stories behind the Songs." The album features 12 of Eamonn's favorite Christmas songs and is packaged in a beautiful hardback story book that also includes a DVD Christmas Special.
"Christmas has always been among my favorite holidays," says Eamonn. "And Christmas songs and carols have always put me in the holiday spirit. I'm happy to share these classic Christmas songs that have served as musical inspiration throughout my life."
In addition to the Christmas songs, this beautifully presented album includes both a DVD Christmas Special and hardback story book. The story book includes the history behind each song as written by bestselling author Ace Collins. The DVD Christmas Special features Eamonn and Collins presenting the history behind the songs, along with stories from the towns in which they originated. Viewers will see scenes from towns in Austria, the United Kingdom, France and the United States.
Eamonn has also released a single track from the album, Blue Christmas, which is available for download from Amazon.com or iTunes.
Tracks on the album include: Blue Christmas, I'll Be Home For Christmas, White Christmas, It Came Upon A Midnight Clear, Silent Night, Have Yourself a Merry Little Christmas, Friends As Yet To Come, Angels We've Heard On High, O Come All Ye Faithful, The Christmas Song, O Holy Night and Auld Lang Syne.
"I would like to thank everyone for inviting me into their homes this holiday season," says Eamonn. "I hope these songs can inspire everyone to get into the holiday spirit and share it with others."
For more information, or to purchase the album, visit http://www.eamonn.net
About
Eamonn McCrystal is a world renowned adult contemporary vocalist. Born in Ireland, the acclaimed traditional pop artist, radio personality and radio host made his music debut at the age of nine and recorded his first album at 13. He has collaborated with major artists including Kristin Chenoweth and Randy Travis.
In 2014, Eamonn is scheduled to launch a new television project, The Eamonn McCrystal Network, and will appear beside Whoopi Goldberg, Ashley Judd and Patrick Wilson in the movie "Big Stone Gap", he will also be featured on the movie soundtrack.
For more information on Eamonn McCrystal, visit http://www.eamonn.net.