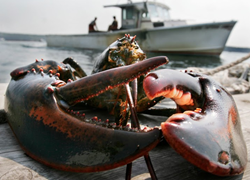 (PRWEB) December 06, 2013
The growing demand for sustainable seafood is putting a spotlight on sustainable-labeled seafood in grocery stores and whether or not the seafood is truly sustainably caught. For a seafood item to be sustainable, it must be plentiful for future generations and the fishing techniques must result in minimal harm to other animals in the ocean. Environmentalists are calling for further scrutiny and are pressuring the Marine Stewardship Council to take a closer look and certify fisheries that do not meet these guidelines.
In an NPR-Truven Health Analytics Health Poll, 3,000 adults throughout the United States were polled. The survey revealed that "80 percent of Americans who regularly eat fish say it is 'important' or 'very important' that the seafood they buy is caught using sustainable methods." In addition, several participants said that they believe that sustainably caught fish have additional health benefits and that they would pay a premium for sustainable-designated seafood.
At GetMaineLobster.com, Maine lobster is of the highest quality and comes from a well-managed, sustainable fishery. The Maine lobster industry is the model of a well-managed fishery—ensuring that both the Maine lobster resource and the coastal marine environment are protected. It is important for the live Maine lobster and seafood delivery service to let health-conscious and environmentally aware consumers know that they can count on GetMaineLobster.com to provide succulent Maine lobster for years to come.
"GetMaineLobster.com knows that traceability and sustainability are important to preserving the luxury of Maine lobster," says Mark Murrell, founder and CEO of GetMaineLobster.com. "By protecting the Maine lobster resource today, we ensure that future generations can enjoy."
Several regulations are put in place by the Maine Lobster Council to ensure that the health of the lobster resource is maintained, including a minimum and maximum size limit, an apprentice program for harvesters to learn about sustainable harvesting practices, trap limits, no diving or dragging methods allowed, and a lobster seed fund that ensures that good breeding lobsters are returned to the ocean to reproduce. In addition, female lobsters with visible eggs cannot be harvested. Before releasing the lobster, harvesters notch the tail to identify it as a good breeder, thus protecting the lobster for life from being harvested.
To learn more about GetMaineLobster.com, browse its wide range of seafood offerings, and to access lobster recipes or view current specials, visit GetMaineLobster.com or call (866) 562-4817. For even more lobster news and recipes go to JustAddLobster.com.
About GetMaineLobster.com
GetMaineLobster.com, a division of Black Point Seafood and Black Point Gourmet, hand-selects the finest Maine lobster, seafood and beef products for convenient distribution throughout the United States. Their passion is to make fresh, quality seafood readily available to customers across the country, which is why they buy from only the most trusted, well-established suppliers to ensure that they receive the finest products available.
GetMaineLobster.com was selected out of the more than four million small American businesses served by Chase bank to represent its new Platinum Business Checking product for its 2013 national advertising campaign.