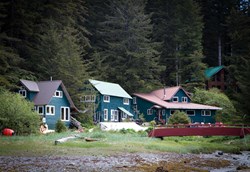 "Life at the Hobbit Hole not only immersed us in the social-ecological systems of Alaska and what it means to live sustainably as part of these systems, but also reminded us what really matters in life: nature, friends, and great home-grown food."
Palo Alto, California and Inian Islands, Alaska (PRWEB) December 06, 2013
A group of four Stanford environmental science graduate students, led by Southeast Alaska native Zachary Brown, has launched a fundraising campaign to build a field education, teaching and research institute at a unique coastal property in Southeast Alaska.
The Inian Islands Institute will be based at the Hobbit Hole, a 5-acre inholding property located in the Pleasant-Lemesurier-Inian Islands Wilderness at the mouth of Glacier Bay in Southeast Alaska. The Hobbit Hole is surrounded by abundant marine life, pulsing through Icy Strait from the Outer Coast to Alaska's Inside Passage. It's a short hike or paddle to salmon streams, kelp forests, alpine tundra, and lush temperate rainforest. The glaciers and 15,000 foot peaks of the Fairweather Range tower in the distance.
Their goal is simple: to create a field research institute to bring undergraduate students to this special place. Alongside their scientific exploration of the unique ecology of this system, students at the Institute will take part in a unique brand of sustainability education and research. As a remote property existing off-the-grid, the Hobbit Hole teaches us to understand the resources, or ecosystem services, on which we all depend. The team believes this setting will allow for a unique and powerful mix of cutting edge environmental scientific research and a curriculum in sustainability science that can effectively train tomorrow's leaders.
And they have already been putting this vision into action: in September 2013, the Stanford team brought the first group of students out to the Hobbit Hole as part of a Stanford University Sophomore College course they designed on the social-ecological systems of Southeast Alaska. The team's course brought 12 Stanford undergraduates to Southeast Alaska for three weeks to study natural resource management and sustainability. Engaging with fishermen, studying the regeneration of the Tongass rain forest, kayaking through pods of Steller's sea lions, and touring hydroelectric dams small and large, undergraduate students in the course explored their own understanding of the challenges of creating a sustainable future.
For these students, studying at the Hobbit Hole was a life-changing experience: "At the Hobbit Hole I had a moment of clarity. After kayaking several miles, my body was tired, hungry, and starting to get cold. My eyes shifted from eagle to sea lion to hemlock to the silvery flash of a fish. Everything I saw was movement, diversity, and vibrant, just like the diverse opinions about what sustainability means that I had trouble coming to terms with. But even though I found more answers than I could imagine, I wouldn't have it any other way. I've had such an amazing experience—running around the rainforest, meeting real people, bonking fish on the head, hearing high stakes energy conversations, and understanding the inner workings of a small community—that wrapping it all up seems almost impossible. I would never want a rigid, static definition to guide and manage something so beautiful and dynamic. This course has truly changed my life," writes student Nalani Wakineokona.
Achieving these unique, life-changing insights through place-based education is the vision of the founders of the Inian Island Institute. As founding team member Aaron Strong explains, "Many of our students initially think that sustainability is about recycling or turning off your lights, but the real challenges of building a sustainable future are much deeper: they require developing an understanding about how groups of people make decisions about how to manage resource uses in specific places, in specific ecosystems. These aren't easy decisions, but the economy of Southeast Alaska, built on fishing, forestry, tourism and energy use, provides an ideal setting for learning about how to navigate such decisions. The Inian Islands Institute at the Hobbit Hole engages students with a curriculum that gets to the heart of these challenges in as rigorous a manner and as stunning a setting as you can find."
The Inian Islands Institute's mission is to inspire tomorrow's rising environmental leaders through experiential living and learning in the Wilderness of Southeast Alaska. The founding team is Zachary Brown, Lida Teneva, Lauren Oakes, and Aaron Strong. For additional information on the Inian Islands Institute and the campaign, please contact Zachary Brown or visit http://inianislandsinstitute.org/. Their fundraising campaign can be found at http://www.indiegogo.com/projects/inian-islands-institute-education-and-research-in-wild-alaska.
Contact:
Zachary W. Brown, Founding Director
Inian Islands Institute
650-736-0688
http://inianislandsinstitute.org/