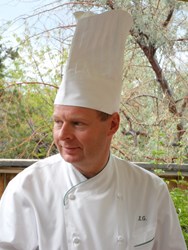 My greatest satisfaction is knowing that I bring happiness and pleasure to others through my food. -- Xavier Grenet
Santa Fe, NM (PRWEB) December 06, 2013
Xavier Grenet, longtime Executive Chef at Santa Fe's nationally acclaimed restaurant Ristra, is proud to announce the opening of his own fine-dining establishment, L'Olivier, located at the corner of West Alameda and Galisteo Street in downtown Santa Fe. L'Olivier will open for dinner on December 20, 2013 (5:00 – 10 PM). Beginning on December 23, lunch and dinner will be served. Lunch is 11:30 AM – 2:30 PM, and dinner 5:30 pm-9:30 pm, Monday-Thursday and 5-10 pm Friday & Saturday—Closed Sundays).
L'Olivier will feature Grenet's unique trademark: elegant and refreshing cuisine combining classic French culinary techniques with Southwestern flavors and ingredients. New York Times writer Christian Debendetti wrote that Xavier's "French-inspired menu uses bold Southwest flavors with finesse."
Grenet brings 20 years of experience to L'Olivier. Prior to his past 14 years at Ristra, he served as Executive Chef at Barcelona in San Francisco, Les Célébrités at the Essex House Hotel Nikko New York City and Jamin in Paris, France (under renowned chef Joël Robuchon).
"My greatest satisfaction is knowing that I bring happiness and pleasure to others through my food. Cooking is bringing love to the table," said Grenet. "This is the perfect time to start my own restaurant with my partner and wife Nathalie, who understands and supports my passion for fine cuisine."
Co-owner and manager of L'Olivier is the chef's wife, Nathalie Bonnard-Grenet, also from France, who states that at L'Olivier, diners can look forward to a warm and elegant ambience that will reflect the spirited, flavorful cuisine Xavier is known for. Nathalie is the founder of Santa Fe Accueil, the local chapter of an international organization for French natives and speakers of the language.
---
ABOUT L'OLIVIER: In a dispute between Poseidon and Athena regarding what to name the city of Athens, Athena's spear struck the ground resulting in an olive tree, which came to symbolize the city's great triumph, peace and wisdom. Since the olive tree is a symbol of abundance and prosperity in many cultures and religions, Grenet identified with the story in the sense that the restaurant will triumph as well. Additionally, the chef was inspired by the olive tree's representation of abundance and its many uses from its wood to its oil. Its power is in its great influence in cooking and the many recipes in which it is included. Olivier is also the name of Nathalie's brother.
For more information, please contact:
Nathalie Bonnard, Manager
L'Olivier
229 Galisteo Street
Santa Fe, NM 87501
505.989.1919
http://loliviersantafe.com/
natbonnard (at) hotmail (dot) com
For media inquiries, please contact:
Jennifer Hobson-Hinsley
JLH Media
505 603 8643
Jennifer (at) jlhmedia (dot) com