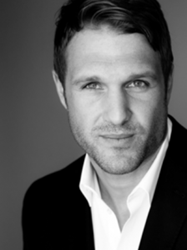 'Having been surrounded by remarkably competitive individuals, performing at a very high level, for so long,' said Monty, 'it was a natural fit working with Dustin Cumming and his similar drive and passion for real estate.'
Los Angeles, California (PRWEB) December 06, 2013
One of Los Angeles top real estate agents, Dustin Cumming, announces new partnership with former longtime NFL standout Monty Beisel. The power duo, Cumming & Beisel of Hilton & Hyland in Beverly Hills, California, has become a leading real estate team specializing in high-end luxury residences in the greater Los Angeles area. The team has represented some of the region's most prestigious properties from Manhattan Beach to Beverly Hills and Malibu and looks to build upon this success.
Monty Beisel has teamed up with Dustin Cumming & Partners after 10 years of playing in the National Football League as a linebacker for the Kansas City Chiefs, New England Patriots and Arizona Cardinals. Having played at the highest level in professional sports, including Super Bowl XLIII, Monty brings a unique perspective and knowledge to working with professional athletes, entertainers and their families.
Dedicated to building long-term relationships, Monty is committed to delivering the highest level of personalized service to his clients, built on the fundamental principles of professionalism, trust, reliability, integrity and attention to detail.
"Having been surrounded by remarkably competitive individuals, performing at a very high level, for so long", said Monty," it was a natural fit working with Dustin Cumming and his similar drive and passion for real estate"
Monty's passion for architecture and luxury real estate has lead him to design, develop and own several properties in the Los Angeles area. He has made Los Angeles his home base for the past 13 years and his investment partnerships are active in acquiring large multi-residential properties across Southern California.
Monty played football at Kansas State University and graduated with a Bachelor of Arts degree in Marketing and Mass Communications.
He joins Dustin Cumming, an established Los Angeles real estate professional who has a long lineage in the industry. A Los Angeles native, Dustin has spent his entire life in the real estate vertical, having grown up in residential construction and development working with his fathers companies. He has since parlayed this knowledge and ingrained passion into remarkable success in residential real estate sales, development and investment.
For more information, please visit http://www.CummingBeisel.com.