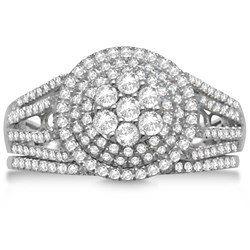 It's been a bright holiday season thus far. Jewelry items are among the most sought after gifts of the year.
New York, NY (PRWEB) December 11, 2013
Although Black Friday sales were frightfully unfulfilling for many retailers who are worried about a drop in overall spending, the jewelry industry may not be suffering the same fate. Both online and brick & mortar jewelry companies are poised to grab a larger piece of the consumer spending pie. According to IBISWorld*, gift givers have shortened their lists and are spending more on high-value gifts like electronics and jewelry.
With the first decline in spending on Black Friday weekends since 2009** consumers are expected to buy gifts for a smaller network of people, but spend more per person. Jewelry is among just two categories expecting better sales, with electronics being the other popular gift choice.
Raphi Mahgereft, a jewelry expert at Allurez, a New York based jewelry designer and retailer said, "Cyber Monday sales were even better than expected with diamond, moissanite, and gemstone jewelry being top sellers. The entire Black Friday weekend was busier than it has been in years."
While most retailers have been scrambling to make up for lower sales, some online companies are working overtime to fulfill orders. Mr. Mahgereft continued, "we've put on extra associates to process orders quickly. In addition we have implemented new search tools, personal shoppers and extended customer service hours to offer our consumers a positive experience."
Based in New York City and serving customers around the globe, Allurez Jewelers is a rising star in the field of luxury ecommerce. Allurez was recently ranked as the number one online-only jewelry retailer by TopTenReviews.com, and placed in the top three retailers overall. Their team of veteran jewelers specializes in all fine jewelry, including engagement rings, gemstone pendants, and other spectacular contemporary jewelry. Visit them online at Allurez.com.

** http://www.bloomberg.com/news/2013-12-02/black-friday-weekend-spending-drop-pressures-u-s-stores.html Bloomberg Dec 2, 2013