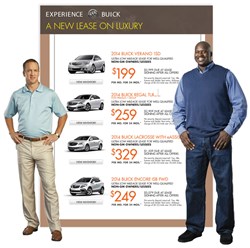 "I know that if I share my insider knowledge that all, including my store, will benefit," says Scott McCorkle.
Charlotte, NC (PRWEB) December 09, 2013
As an industry leader with an insider's view of the automobile sector, Scott McCorkle of Liberty Buick GMC in Charlotte, NC is offering insider knowledge to customers going through the car buying process. At the risk of selling cars for his competitors, he's literally changing the way the local car market works by putting the greater good of the brand before the success of his own store.
"I know that if I share my insider knowledge of the emerging trends and put market dollars into pushing those messages that all, including my store, will benefit. There are many customers that GM and Buick Corporate cannot impact on a national level. By sharing the new features and trends, people may reconsider their brand loyalty and thus affect their automobile purchasing decisions today, and in years to come," says McCorkle. Using traditional PR, radio and TV ads, McCorkle is sharing his views on the impact of several significant trends that might revolutionize the driving experience for many.
"There are things Buick and GM have focused on this year – market needs for comfort, power and performance and technology advancements," says McCorkle. "These influencers are steering many of the trends and features consumers will be seeing in the next few years."
1. Bigger is no longer better with luxury cars. Luxury is no longer associated with size. The market for automobiles that are smaller and more fuel efficient, but also include high-end comfort features and advanced technologies will escalate in the near future. "We're not talking small as in compact car, we're talking mini, as in the new Buick Encore that was designed to give the consumer both luxury and economy in an extremely small package," says McCorkle.
2. Bigger is better with trucks. Big work trucks like the Sierra and Denali are the cornerstone of the GM brand and they're not making them any smaller! People still love their big trucks. They are selling like hotcakes due to their tremendous hauling capabilities combines with luxury features. In fact, GM has incorporated advanced trailoring technology and offers a Trailoring App giving drivers the specs on GM truck hauling capacity. There's nothing to fear about investing in a large truck. Contrary to the opinions of some in the energy sector, McCorkle is confident that the resale value of a truck will last.
3. Luxury and Trucks is no longer an oxymoron. The Sierra Denali is a quiet luxurious ride that comes complete with high-tech features a teenager would envy. Starting with leather-trimmed cabins, a new engine control and response systems, and a customizable driver display with Intellilink Command System.
4. Standard Safety Packages — Now standard in trucks and cars, drivers will find multiple airbags and stability control, and safety packages that include lane-departure warnings, forward-collision alert systems and a safety-alert seat that vibrates the driver's seat cushion with alerts.
Scott McCorkle praises Buick for targeting young luxury buyers with new models like 2014 Buick Regal. Buick spokespeople for 2012 like Peyton Manning and Shaquille O'Neal lit the fire in this new market. Young people are starting to take note of the engineering changes in Buick, like the new direct-injected 2.0-liter turbo charged four cylinder and 259 horsepower engines that outperform many of the European luxury sedans. Bottom line for McCorkle, he hopes you buy your next Buick or GMC from his shop, but his main focus is for people to notice these re-invented brands that he believes are the best quality automobiles on the market.
Liberty Buick GMC (http://www.clickliberty.com) is located at 9028 East Independence Blvd. in Charlotte.