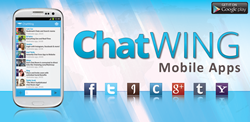 San Antonio, TX (PRWEB) December 07, 2013
Online advocacy is surging in the Chatwing chatrooms as the company has launched its newest Instagram widget. According to Chatwing developers, advocates have been using Instagram as one of their social tools in conveying their messages. Since Instagram is properly integrated in the Chatwing widget, the messages can reach hundreds of users within an allotted time period. Listed below are the important functions of the chat room tool.

Chatroom flexibility. The Chatwing widget is designed to be flexible, not just in the manner, but in the customization process as well. After registering for an account, the user can proceed to his dashboard and start modifying the appearance of his first chat box. Every user is entitled to make unlimited chat widgets.
Social media perks. Since the widget also allows social media connectivity, the potential of networking is high. Online advocates can widen their networks through Facebook, Twitter, Google, Yahoo, Tumblr, and Instagram mediums. This makes the Chatwing widget a simple tool that can be used by professionals from all niches.
Premium features. Chatwing chatbox also has an array of premium features that all users can choose from. They can remove the Chatwing logos and upload custom ones. In this way, they can personalize their website chat experience. Other features include secure socket layer, more background themes, and increased chatroom efficiency.
Chatwing chat software and its developers are dedicated to the premise of online advocacy in many ways. By improving their online chatroom, the dedication is magnified. Online advocates can check out Chatwing's official blog for more updates and widget information.
About Chatwing.com
Chatwing.com is a company that has brought innovation to the modern chat widget. Operating for more than five years now, Chatwing and its team of developers have dozens of ideas ready to be introduced to the public. The Chatwing chat app is an easy-to-use online tool that can help web users interact with each other and can also generate continuous traffic. Chatwing will always be a "freemium" application for everyone.