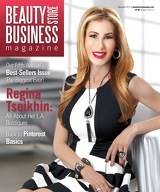 It's the who's who of beauty and we're happy to be counted among its numbers. -Susan Nickell, Sevique Founder
(PRWEB) December 06, 2013
As this December marks the official launch of the SEVIQUE: RENOURICHE skin care collection, it will no doubt be a month of milestones for the fledgling product line. One of those milestones was passed this month in the pages of Beauty Store Business magazine, where the emerging skin care supplier will be making its first appearance on their yearly Best Seller's List with the popular Renouriche: Anti Aging Eye Serum.
First published in the mid 90's as a member of the Creative Age family of beauty and trade magazines, Beauty Store Business magazine is "the No. 1 source of information for beauty industry professionals and beauty store owners." Serving more than 16,000 subscribers, this trade journal provides its readers with the latest news, trends, advice and reviews for beauty store professionals. Its yearly Best Seller's list is a comprehensive compilation of top sellers from everybody who's anybody in the beauty supply business.
For SEVIQUE, making the 2013 list is the perfect starting point for its first year in business. Says founder Susan Nickell; "It's the who's who of beauty and we're happy to be counted among its numbers" of her line's best seller, she goes on to say, "With the Eye Serum, as with all our products, it's not about making wild claims or being the next big hit on the market, it's about providing the customer with a product that works for their needs and welcoming them back again and again. So far we've been lucky enough to have that relationship with most of the people we've gotten this product in front of."
For more information on Sevique, please contact us at http://www.sevique.com or 800-695-8711.