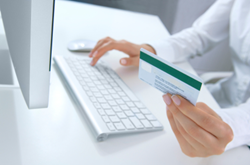 This allows customers to make credit transactions from the comfort of their home - during their difficult time
Toronto, Ontario, Canada (PRWEB) December 05, 2013
Think the goods that your business offers aren't quite suited for an online store? Think again. Businesses such as Basic Funerals and Casket Outlet have dove headfirst into the online world - and are completely shaking up the funeral service industry.
These funeral service retailers have kicked the tradition of the funeral home and taken their business online, allowing customers to make credit transactions from the comfort of their home, in their difficult time, with astounding results. Basic Funerals expects to do over 1,200 funerals in 2013 – just four years after first offering their services online – a number six times more than the average physical funeral home in Ontario.
"Creating an online presence is a great way to help grow your business" said Parry Rosenberg, Vice President of Sales and Marketing at MONEXgroup. "No matter what kind of business you're in, eCommerce solutions from MONEXgroup can help you bring products to your consumers affordably and conveniently."
By providing their services online and without a traditional funeral home, Basic Funerals offers their services for less than half of what their competitors cost, increasing their consumer base. However, it isn't solely the price difference which has seen companies like Basic Funerals increase their profits after moving online.
The amount of money spent by Canadians online hit an all-time high in 2012, up 24 percent from 2010 to a total of $18.9 billion. MONEXgroup can provide your business with eCommerce solutions that will keep you at the forefront of retail technology, while capturing a lucrative and growing segment of consumer spending.
Whether your business is just starting out or making its first foray into online selling, trust MONEXgroup for all your payment processing needs.
MONEXgroup is the number one payment processing provider in Canada offering the lowest rates in the industry. Our services include: debit card and credit card point-of-sale (pos) terminals, mobile, integrated and e-commerce online payment products. MONEXgroup serves over 20,000 merchant accounts across Canada in all market segments including: restaurants, business-to-business, professional services, leisure and hospitality.
Holly Murray
MONEXgroup
Marketing Communications
HMurray@MonexGroup.com
T: 647 204 0197
http://www.monexgroup.com