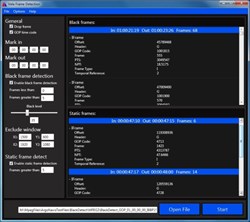 Powerful, convenient solution for DAI and QC of VOD content.
Tampa, Florida (PRWEB) December 05, 2013
Vela Research announced the introduction of tools to unlock the data necessary for Dynamic Ad Insertion on its widely deployed ArgoNavis Content QC platform.
Vela's ArgoNavis has been enabling efficient QC and Verification of Programming and Content in leading Broadcast, Cable, IPTV, Post Production, Content Creation, Syndication and Video Distribution companies. ArgoNavis is a powerful, full-featured solution that supports an extensive set of video/audio formats and protocols, 608 and 708 Closed Captioning, VANC and metadata capabilities.
The ArgoNavis QA/QC platform's Dynamic Ad Insertion (DAI) tools further enhance the MPEG test and verification processes of users in complex content environments. The automated ArgoNavis tools extract the MPEG parameters necessary for the next generation of DAI devices to work. Areas containing black frames within a file, and the I-frames within the black are identified and data specific to the I-frames is collected. This data includes:

NPT (Normal Play Time)
Frame Number (Decode Order and Display Order)
Detection & Logging of black frame data
Extraction & Logging of I-Frame data
Video PTS
Byte Offset
GOP Header Time Code
Automated, faster-than-real-time collection of data for DAI systems
Elaborate Logging, Reporting and Alert Generation capabilities
The underlying ArgoNavis QC/QA solution enables comprehensive verification, logging, extraction and recording of essential data within the content workflows of demanding operations.

Closed Captioning
Frame Integrity
SDI and VANC data
Video and audio metadata
CableLabs compliance
Audio integrity/Loudness levels
CALM Act compliance
Ultra high bit-rate, mezzanine content QC and verification
Supports industry standard video and audio formats, bit-rates, frame-rates and resolutions
The ArgoNavis QC/QA system ships in a 1.5 RU form factor, 3TB of built-in storage, and HD/SD-SDI, HDMI and Analog I/O – as well as in the form of software that can be licensed and run on any number of content-inflection points within an operators content workflows to perform automated testing, verification, logging and records keeping.
For further information, please contact Kevin McDowell at 954-558-2063 | kmcdowell(at)vela(dot)com.
About Vela: Vela® is an Emmy® award winning company offering a complete range of high quality SD and HD products for the broadcast, cable, post production, enterprise and education markets. Vela designs and manufactures system and board level solutions used in a variety of media applications. The board level products are also integrated into advanced systems and video servers offered through Vela and its partners. Over the past 18 years, Vela has earned recognition by virtue of the trouble-free, high-performance and cost-effective solutions in use in demanding customer environments worldwide. Vela is based in Clearwater, Fla., USA, and is on the web at http://www.vela.com.