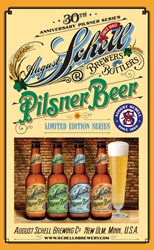 New Ulm, MN (PRWEB) December 06, 2013
The August Schell Brewing Co., the second-oldest family-owned brewery in the country, brewer of Schell's and Grain Belt, is releasing a new series to celebrate the 30th anniversary of Schell's Pils.
In 1984, the August Schell Brewing Company's President Ted Marti had the passion and vision to break away from the then popular image of beer in America. At that time, America's unique beers and breweries had all but disappeared, leaving only a few who mass-produced commodity beers with little or no character, tradition or culture worth mentioning. With a rich German heritage, Schell's introduction of a full-flavored, traditional Bavarian-style Pilsner was only the start of the breweries contribution to the craft beer revolution that stands stronger than ever today. Later that year, Ted introduced Schell's Weiss Beer followed by numerous other craft beer varieties over the years.
The Schell's 30th Anniversary Pilsner Series will consist of four different Pilsner beers. It will include the original recipe from 1984, Schell's current Pils beer and two new innovative varieties made to help celebrate this historic occasion, a Roggen and Mandarina Bavaria Pils. Schell's original Pils recipe is what the late beer aficionado Michael Jackson called "One of the best American examples of the Pilsner style." It has a light maltiness, delicate noble hop aroma and a pleasant hop bitterness. The current Pils beer recipe has evolved over the past 30 years. Today it is brewed with 100% 2-row barley malt and is dry hopped with Sterling hops. It has a rich malt body accented by a large floral hop and malt aroma with a refreshing hop tang. The Roggen Pils is a twist on the traditional, featuring spicy rye malt coupled with spicy Tettnang and Smaragd hops from the Tettnang region of Germany. The fourth Pils variety showcases a new hop from Germany called Mandarina Bavaria. Its strong tangerine and citrus notes dominate the flavor and aroma.
This series will be released in 12-pack samplers containing 3 12oz. bottles of each variety and sets of 4 1/6-barrels starting in February. A series to commemorate the 30th anniversary of Schell's Hefeweizen will also be available in July.
About August Schell Brewing Company
August Schell Brewing Company, located in New Ulm, MN, sits atop the same site it was built on in 1860. With its sprawling grounds, beautiful gardens, Schell Mansion, and deer park, the brewery is a tourist destination for any beer lover. Schell's boasts a proud heritage of 153 years of continuous family ownership and specializes in craft beers. In addition to the line of specialty beers, Schell's also produces Grain Belt Premium, Grain Belt Premium Light and Grain Belt Nordeast. For more information on Schell's Brewery, tour schedules or any of their 17 quality beers, go to http://www.schellsbrewery.com.