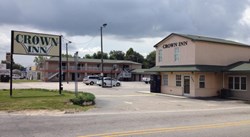 "We want to ensure that we can always offer the best prices along with the best services."
Fayetteville, NC (PRWEB) December 09, 2013
Greenbee Parking, a young and rising airport parking service, has just announced a series of new offers for their clients in Fayetteville and around. With these new deals in place travelers using the Fayetteville (FAY) airport can not only get great parking spaces but can also enjoy great rates and savings along with it. There will be options for incredible savings for those who are booking the space for long term or short term as they can utilize the cheap Fayetteville airport parking rates offered by Greenbee. Overall, Greenbee customers can expect to save anything from 30-75% on their airport parking expenses, a key reason for their rising popularity.
"We want to ensure that we can always offer the best prices along with the best services," said Christine Cooper – Marketing Coordinator, Greenbee Parking. "Our new cheap Fayetteville airport parking rates have been specially designed to keep this principle in mind. The ultimate focus is 100% customer satisfaction which is our true reward."
Fayetteville Regional Airport Parking Information
Fayetteville Regional Airport is located in the Cumberland County, North Carolina or the "City of Dogwoods". For a mid-sized airport it keeps very busy and serves a staggering 12-county area in the Sandhills of southern North Carolina. It is strategically close to the I-95 corridor as well the central business district of the city of Fayetteville. The airport is serviced by airlines like US Airways Express, Delta Air Lines and Delta Connection carrier ExpressJet and United Express carrier CommutAir. It connects with all the major domestic cities and sees a lot of business traffic as a result and has been categorized as a primary commercial service airport. . As per FAA records the airport has seen 258,986 passenger enplanements in 2010 and is included in the National Plan of Integrated Airport Systems for 2011–2015.
The airport is undergoing major changes to improve the existing facilities and add to the positive passenger experience. Now with independent service providers like Greenbee Parking in the scene, the parking experience for FAY promises to be even better. Their flexible and easy booking options along with the wise range of options are a perfect complement to the existing facilities. Now with the introduction of the latest deals and cheap Fayetteville airport parking rates, Greenbee promises almost 30-75% of savings on parking expenses for both their long and short term customers.
The Greenbee Airport Parking Solution
Greenbeeparking.com is the connection between consumers and parking vacancies in close proximity to major airports and seaports. The parking spaces are very affordable because the company has negotiated discounted rates with major hotel chains for the parking spaces that are not currently occupied. Here's how it works.
Greenbee Parking puts the available inventory of parking spaces on their website to be reserved by business and leisure travelers looking for cheap airport parking. This alternative method for finding parking equates to significant savings for the traveler. You can learn more about their offers from (http://www.youtube.com/watch?v=WWLybHNYjYQ) or via the website at (http://www.greenbeeparking.com).
About Greenbee Parking
Greenbee Parking is the nation's most innovative long term parking company, with a new way of making long term parking affordable. The company is rapidly adding new airports to its network.