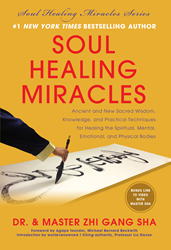 Phoenix, AZ (PRWEB) December 06, 2013
New York Times bestselling author and founder of Soul Mind Body Medicine and Divine Channel, Master Zhi Gang Sha presents for the first time a complimentary "Introduction to Karma Cleansing Workshop" for the Phoenix community to learn how their actions and intentions affect their lives now and how they can cleanse their Karma for a more fulfilling and healthy life. Dr. and Master Sha is in Phoenix for area events celebrating the publication of his newest national bestselling book, Soul Healing Miracles, and showcasing his Ling Guang Pu Zhao (Shining Soul Light) Calligraphy Scrolls. The Introduction to Karma Workshop is free to the community on December 7 12:00-3:00 pm MTN at the Phoenix Convention Center located at 100 N. 3rd Street, West Building, Room 101 A & B in Phoenix AZ 85004 (and via worldwide webcast). To register for the Introduction to Karma Cleansing Workshop for Phoenix or via webcast, go to http://www.drsha.com or call Debra Manning, RN 480.338.1012 for more details.
"Karma is the root cause of success and failure in every aspect of life, stemming from a person's actions and intentions in this lifetime and the past. It can have grave effects on the health, finances, relationships, emotions, spiritual natures of a person's life, "says Dr. and Master Sha. "In order to understand how to clear Karma, it's important to understand what it is and how individuals can be mindful of the positive and negative Karma they create every day." In Master Sha's "Introduction to Karma Cleansing Workshop," participants will learn sacred wisdom and practical techniques to transform all life, including boosting energy, stamina, vitality, healing the spirit, mental, emotional and physical bodies, preventing all sickness and transforming all kinds of relationships. Plus, registered participants for this free workshop will learn and experience:

What is Karma
What are Good Karma and Negative Karma
How to Become More Mindful of the Karma You Create for Yourself and Others
How Karma Affects Your Life
How To Transform Negative Karma
Demonstrations of Karma Cleansing
This Introduction Karma Cleansing Workshop is open to everyone – no matter where you are in your spiritual journey -- who can benefit from Master Sha's incredible teachings and blessings from one of the most powerful healers and spiritual leaders of our time.
Why do individuals need Karma Cleansing?
Mother Earth is in a serious transition period. In the last ten years, more natural disasters and more challenges are happening in Mother Earth, which are in turn devastating relationships, finances, health, the economy, politics, environment, and more. Mother Earth and humanity are facing further challenges in the next ten to twenty years.
Master Sha says that the earth is going through a very special transition marked by intense purification. Humanity is enduring suffering because of negative Karma created over thousands of years of wars, killing, greed, stealing, cheating, taking advantage of others and other atrocities of humanity. "Also, by damaging Mother Earth by clearing out forests, wrenching natural resources from the land and water, testing nuclear weapons, pollution and causing the extinction of her animal inhabitants, we have created very bad karma," Dr. Sha says. "Karma is cause and effect. We've caused harm to ourselves, our families, our communities and Mother Earth. When you produce so much negative energies we throw off the natural balance of nature. We have to reconnect our energies with nature and bring our lives back into balance with the Mother Earth."
In a time when more people are looking to answers to life's questions, Dr. and Master Sha is proving to be a popular choice. Master Zhi Gang Sha is the soul leader, a world-renowned master healer, and a divine servant. He is the founder of Soul Mind Body Medicine. He was trained as a conventional medical doctor and a doctor of traditional Chinese medicine. The founder of the Institute of Soul Healing and Enlightenment™ and the Love Peace Harmony Movement™, Master Sha is a grandmaster of many ancient disciplines, including tai chi, qigong, feng shui, and the I Ching. Master Sha is also an expert in the most advanced cellular healing science now occurring in China. In the West, he is involved in breakthrough research on the effects of spirit on the human system. Dr. Sha was named Qigong Master of the Year at the Fifth World Congress on Qigong. In 2006, he was honored with the prestigious Martin Luther King, Jr. Commemorative Commission Award for his humanitarian efforts. Master Sha was featured on PBS for his authoritative book series , Soul Power.
Dr. and Master Zhi Gang Sha has more than 100,000 followers on Facebook and more than 200,000 devotees worldwide. There are more than 1,000 Soul Healing miracle videos posted on Dr. and Master Sha's YouTube Channel (http://www.youtube.com/zhigangsha), with over 1.1 million views. Everyday, people all over the world are experiencing personal Soul Healing miracles and sharing their video testimonials so that others can benefit from these powerful and life-changing results. His blog, http://mysoulhealingmiracles.blogspot.com/ is read by thousands worldwide and legions of people attend his daily LiveStream events at https://www.drsha.com/master-shas-live-events/.
Master Sha is author of more than 10 books published by Simon & Schuster (Atria Imprint) and his newest book, Soul Healing Miracles (BenBella) debuted on the USA Today, Wall Street Journal, and Amazon Bestseller Lists and contains sacred Chinese calligraphy scrolls created by Master Sha which carry powerful blessings from The Source bringing the power of soul healing miracles to transform the lives of all who connect with the scrolls. Dr. Sha's most recent New York Times bestselling book, Divine Healing Hands (September, 2012) topped national bestseller lists within 24 hours of publication and his 2011 book, Tao Song & Tao Dance was also a New York Times bestseller. All of Dr. Sha's Soul Power books, DVDs and CDs, reveal soul secrets, wisdom, knowledge and practical techniques to transform every aspect of life, and are bestsellers throughout the world. Visit Dr. Sha on his website http://www.DrSha.com and http://www.facebook.com/DrandMasterSha to receive free teachings and soul healings via daily live webcasts, teleconferences and in-person at events held throughout the world.
For more information about Master Sha, the Introduction to Karma Cleansing Workshop, and his new book, Soul Healing Miracles, visit: http://www.DrSha.com.