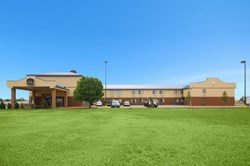 "We want to focus on services that will make travel a breeze for all our customers."
Amarillo, TX (PRWEB) December 11, 2013
Greenbee Parking, a fast growing airport parking service, has just announced a strategic partnership with Best Western Santa Fe in Amarillo, TX. Travelers using the Amarillo (AMA) airport can now heave a sigh of relief as they can avail easy and great parking options at incredible prices from now on. What's more, they no longer have the need to beat the airport rush to get a secure parking space for their cars every time. They can drive into the hotel parking spot at their convenience and park, without having to book a room there. From there they can take the shuttle, which runs at regular intervals, at leisure and reach the airport in peace. Due to relative lack of rush, these spots are secure which means travelers can stop worrying about the safety of their vehicles during their trips as the hotel security patrols the lots in most cases. With the new Amarillo long term airport parking rates announced by Greenbee Parking, they can avail all these benefits for a massive discount.
"We want to focus on services that will make travel a breeze for all our customers," said Christine Cooper – Marketing Coordinator, Greenbee Parking. "Our partnership with Best Western will now ensure that we provide these superior services with minimum cost and effort involved for our customers. Our new Amarillo long term airport parking rates will make sure that there is savings for them all the time."
Rick Husband Amarillo International Airport
The Rick Husband Amarillo International Airport simultaneously serves the states the Texas, Oklahoma and eastern New Mexico. The airport is located very close to downtown Amarillo and the I-40, which adds to its traffic, It is a mid-sized airport but despite its size it is one of the best kept airports in the country known for its first class operations. Increasing business has also led the authorities to consider expansion which they did and a major terminal renovation was recently undertaken and completed. Major renovation features include a new concourse, upgraded HVAC systems, automated baggage handling and improvements in the rental car service and parking systems.
The airport authorities have added to the existing parking space and in this they are aided by private parking service like Greenbee Parking, who've brought in innovative parking options to expand the system with ease. Now with their partnership with Best Western in place they can offer even better Amarillo long term airport parking rates so that travelers here can have ample scope to save on their travel and parking budgets.
The Greenbee Airport Parking Solution
Greenbeeparking.com is the connection between consumers and parking vacancies in close proximity to major airports and seaports. The parking spaces are very affordable because the company has negotiated discounted rates with major hotel chains for the parking spaces that are not currently occupied. Here's how it works.
Greenbee Parking puts the available inventory of parking spaces on their website to be reserved by business and leisure travelers looking for cheap airport parking. This alternative method for finding parking equates to significant savings for the traveler. You can learn more about their offers from (http://www.youtube.com/watch?v=WWLybHNYjYQ) or via the web at (http://www.greenbeeparking.com).
About Greenbee Parking
Greenbee Parking is the nation's most innovative long term parking company, with a new way of making long term parking affordable. The company is rapidly adding new airports to its network.