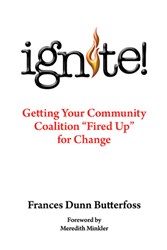 "Health is one of the most important topics in America," Butterfoss said. "I wanted to share my enthusiasm for making communityies healthier with others aiming to do the same."
Richmond, VA (PRWEB) December 07, 2013
What strategies could make your coalition's message stronger?
In new book "Ignite!", Frances Dunn Butterfoss relies on her 25 years of expertise in health promotion to produce a four-part guide for creating and improving local coalitions.
Illustrating how to plan, build, fuel and sustain a cause, "Ignite!" compares forming a local coalition to building a campfire. Sharing sparks of intuition from Butterfoss, the President of Coalitions Work, this book uses proven tools to simplify steps for imaginative and resourceful community members who want jump-start their partnerships.
"After receiving my doctorate in public health promotion and education, I have devoted my academic and professional career to assisting local, state and national coalitions to be more effective," Butterfoss said. "After extensive research and field work, I have analyzed the key strategies for successful partnerships."
Guiding the reader through the steps of coalition-building, Butterfoss illustrates policy, systems and environmental strategies that work. From how to gather the best team, to identifying financial partners, "Ignite!" guides the reader from set-up to future strategies.
"Health is one of the most important topics in America," Butterfoss said. "I wanted to share my enthusiasm for making communityies healthier with others aiming to do the same."
"Ignite!"
By Frances Dunn Butterfoss
ISBN: 978-1-4918-1013-2
Pages: 200
Available at http://www.authorhouse.com, http://www.amazon.com, and http://www.barnesandnoble.com.
About the Athor
Frances Dunn Butterfoss, PhD, MSEd, is a nationally recognized expert on coalition building and organizational development, with more than 25 years of experience training and consulting with organizations, coalitions, and communities across North America. She is president of Coalitions Work and a professor at Eastern Virginia Medical School. She has founded and directed several coalitions and received research support from many agencies and foundations. She has published widely, and her textbook, Coalitions and Partnerships in Community Health, is a best seller for academics and practitioners alike. She lives in Virginia with her husband, Tom, and is devoted to their three children and four grandchildren.
# # #