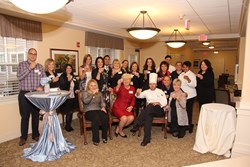 Naperville, IL (PRWEB) December 09, 2013
Silverado memory care community in Naperville celebrated its grand opening on December 5 and is now welcoming new residents. Esther Trail is among the first residents to move into the state-of-the-art community for those with memory impairment.
Silverado's loving, compassionate caregivers – supported by 24-hour licensed nurses, medical director and proven expertise in memory care – in addition to the most progressive design, achieves an overall environment that provides a quality of life and freedom to live that is unmatched anywhere in the area. This is what attracted the Trail family.
"My two sisters and I wanted to make a thoughtful decision for mom. We started looking about six months ago, and no question was overlooked when we talked to the Silverado staff," shares Trail's daughter Ruth Anerino. "The entire staff is focused on dementia care, and they see it as a mission, not just a job. We love that each resident is known individually and is treated with dignity and hugs!"
Silverado's innovative approach to memory care results in unmatched evidenced-based outcomes for those with memory loss. The company's distinctive model combines the social benefits of a community lifestyle with the support of world-class clinical care – included around-the-clock licensed nurses and industry-leading medical directors.
The new community features unique elements that are specifically designed to benefit memory-impaired residents.

The specially trained staff is compassionate and inspired to serve all residents the way one would like their mother to be cared for – with respect and dignity.
Residents experience a sense of freedom and are given meaning to their life again with access to expansive and secure outside spaces throughout the community, engaging music programs, cooking clubs, gardening, art and more – all designed for loved ones to achieve and feel success again.
Outside spaces include gardens, a gazebo, a putting green and walking paths – a perfect place to walk the community dogs or a resident's own dog!
Numerous innovations help loved ones regain confidence and control of their life such as memory boxes; each resident is given a memory box that family members fill with photos and keepsakes to showcase the identity of their loved one and to help them independently find their room.
A variety of common areas – from cozy family space to larger activity rooms – include a game room, clubroom, private dining room, sensory room, general store, hair salon, spa and several bistros.
"As we welcome the first residents to our Naperville community, we celebrate a new milestone – the opening of our 30th memory care community," says Silverado President, Chairman and CEO Loren Shook. "This is an exciting chapter in our mission to enrich the lives of people with all types of memory care needs, as well as their families and the associates who work with us. Since we opened our first community in 1997 we continue to be energized by changing lives and hearing stressed family members say things like, 'thank you for giving me my life back, you are my lighthouse in the storm, and I can sleep again knowing my mother is safe with Silverado."
The state-of-the-art community provides specialized care for up to 90 residents and opens under the leadership of Linda Wylder, who oversees a staff of nearly 100 associates, all focused exclusively on enriching the lives of our memory impaired residents and their families. Wylder brings more than 15 years of industry experience to Silverado and has been a part of the Naperville community for 22 years.
Silverado Naperville is located at 1936 Brookdale Road, Naperville, IL 60563. Learn more at silveradocare.com/naperville.
###
About Silverado
Silverado was founded in 1996 with the goal of enriching lives of those with memory loss by changing how the world cares for the memory impaired and perceives the cultural stigma of cognitive decline. Establishing this mindset as the foundation allows Silverado – and its associates – to leave behind previous misconceptions and operate in a way that provides clients, residents and patients with utmost dignity, freedom, respect and quality of life. Silverado has grown to become a nationally recognized provider of home care, memory care assisted living and hospice services. With locations in eight states – including Arizona, California, Colorado, Illinois, Texas, Utah, Washington and Wisconsin – the company delivers exceptional care and unmatched service to address the spectrum of changing needs, for individuals and families alike. To learn more about Silverado, please visit silveradocare.com or call (866) 522-8125.
Contact:
David Gill
(714) 624-2550
dgill(at)silveradocare(dot)com