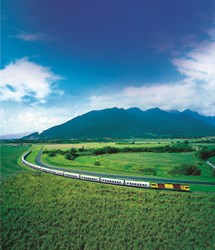 The new Spirit of Queensland marks a new era for Queensland Rail's Tilt Train fleet.
Glendale, California (PRWEB) December 06, 2013
Those planning an Australia vacation will soon enjoy a new way to explore Downunder's east coast by rail. Running between Brisbane and Cairns, the new Spirit of Queensland marks a new era for Queensland Rail's Tilt Train fleet with guests taking in the picturesque 1044 mile, 25 hour trip from the comfort of all new RailBed seats.
The first of their kind in Australia, these luxurious seats convert to lie-flat beds. Passengers enjoy all main meals served directly to their seat, which is equipped with a reading light, footrest, drink holder, 24v power adapter and USB charging, plus a personal entertainment screen featuring on-demand movies, music and audio books.
Passengers are also provided with bed linens, a towel and a personal amenity pack including organic and sustainable products. All passengers have access to the licensed Club Car to purchase light refreshments, confectionery and beverages throughout the journey.
The Spirit of Queensland runs two trips a week in each direction between Brisbane and Cairns. Each trip allows up to 172 passengers on one of Australia's most iconic rail journeys. There are plans to expand the service to six trips a week by late 2014.
With RailBed space limited to 35 guests on each journey, other passengers will enjoy a revamped Premium Economy section. Featuring full leather seats, ample leg room with 30 degree seat recline, and a state-of-the-art personal entertainment system.
The tropical rainforests of Cairns are among Australia's most pristine wilderness areas. They overlook both the city and the Great Barrier Reef – a highlight of any Australia tour. Switching from one of Australia's greatest rail journeys to one of its most beautiful, the Kuranda Scenic Railway takes guests inland to explore the forest. Those who are 'all trained out' can instead opt for the Skyrail Rainforest Cableway, which offers panoramic views over the city, forest and Reef.
Snorkelling trip, anyone?
Goway offers a variety of touring options, including a journey aboard the Spirit of Queensland to complete an experience to the land Downunder.
Since 1970, Goway has been providing unforgettable travel experiences to Africa, Asia, Australia and New Zealand, idyllic island destinations and Latin America. Today Goway is recognized as one of North America's leading travel companies for individuals, families and groups to select exotic destinations around the globe. Goway has offices in Los Angeles, Vancouver, Toronto, and Sydney (Australia).
For reservations and information, visit http://www.goway.com, call your Travel Professional or 1-800-387-8850.