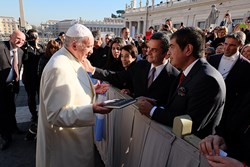 Not only was he impressed with the quality of the book, but Francesco was so happy and promised to read it in detail
Boca Raton, Florida (PRWEB) December 11, 2013
Luis Rosales and Daniel Olivera, authors of Humanix Books' newest release, Francis: A Pope for Our Time, took advantage of a public audience at the Vatican on December 4th to present the new Pontiff with a personal copy of the book.
"Not only was he impressed with the quality of the book, but Francesco was so happy and promised to read it in detail and make suggestions, not only for future editions, but also for the upcoming version in Spanish," co-author Luis Rosales said.
Francis: A Pope for Our Time, The Definitive Biography, incisively chronicles Pope Francis' ancestry, youth, call to faith, humble beginnings in the Society of Jesus, and rise through Argentina's ecclesiastical ranks, all the way to the Vatican. The book emphasizes His Holiness' Jesuit background of humility, poverty, and service that stands to reform the Vatican's long history of lavish excess and removed, otherworldly style of leadership.
The book goes on to reveal the details of Cardinal Jorge Bergoglio's election to Saint Peter's Throne on March 13, 2013, in one of the briefest conclaves in history, and how his role as the Bishop of Rome represents a rekindled sense of hope for the Church's 1.2 billion followers. The first Jesuit to occupy the papacy, Francis is also the first pope ever to hail from the Americas, and has inspired an enormous sense of pride, especially among Latin Americans and his native Argentina.
This concise biography also details Jorge Bergoglio's:

Coming of age during the Peronist years
Challenges throughout Argentina's brutal military dictatorship
Political stance against the progressive policies of the Kirchners
Pastoral commitment to society's most underprivileged and disenfranchised
Dedication to interreligious dialogue and accessibility to his community
Rejection of pomp in favor of simplicity, refusing to live in the plush papal apartments, or don the ermine cloak of office and the infamous red shoes
Francis: A Pope for Our Time, The Definitive Biography, is published by Humanix Books and can be found at booksellers everywhere. Get your copy of Francis: A Pope for Our Time today for just $21.95; hardcover with dust jacket, ISBN# 978-163006-002-2, 288 pages; E-book, ISBN# 978-163006-005-3.