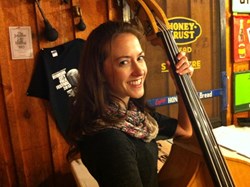 Great Voices, excellent chops and an engaging presentation!! Bravo! Bravo! The Empty Bottle String Band is a Stand Out!Tim Roth, Festival Media
Unicoi, TN (PRWEB) December 17, 2013
The Johnson City Folk Festival in Unicoi, Tennessee finishes 2013 with an exciting lineup, stellar performances and some knock-your-socks-off sets from remarkable, unknown new talent. This year's 3rd Johnson City Folk Festival braved the cold weather with wood stoves, excellent music and roaring fires on every stage.
The chill was in the air this year. But Mr. Winter couldn't match the enthusiasm, the talent, the stoves and the heaps and heaps of firewood Festival organizers brought to The Farmhouse Stage, The Pavillion Stage and Blacksmith Stage. Not this year, Mr. Winter.
Sure, it was a bit challenging, but all stages were wonderfully appointed with stoves, firewood and excellent sound. The Farmhouse Gallery and Gardens provided a buffet that was hot, delicious and filling - not one famished musician went hungry. Peacock Cafe served ham, BBQ, potatoes and soups and breads - the breads were made and baked right on the property and were fresh out of the oven... still hot!
There were some remarkable performances worth noting:

The Empty Bottle String Band was an exceptional ensemble. They were fun, joyful, exuded a delightfully self-effacing strength and confidence in their music - and they backed it up in force. They were in the Farmhouse Stage for their main set and then headed to the Pavillion Stage where it was a bit chilly but the roaring fire in the stove kept it warm and cozy and the music was never compromised!
Standouts in the solo category were Tim Avram from Saginaw MI, Skip Cochran from Birmingham, Alabama, Sjoerd Hoogma from Amsterdam, NL and the always excellent Reagan Boggs who sang of West Virginia coal country hardships that were heart breaking and left the audience a bit teary and more angry at Washington than ever - if such is possible.
Dulcie Ellenberger was a knockout from Asheville, NC and became a festival favorite for her remarkable voice, range and professional set. It was chilly, she had a long drive, but she did a most enjoyable spot.
The folks from Possum Creek did not disappoint. They had played The Johnson City Folk Festival it's first year and were a welcome addition to this year's line-up as well. Always good, always fun and very, very musical - they get better and better.
The most promising and most exciting set came from Emma Nelson - a solo artist with a pocketful of wonderful songs, a killer back-heel bass drum rig and a voice that had the Amy Winehouse edge, more power than a 6ft Crane... and hit like the hot kiss at the end of a wet fist. From what the buzz was, looks like she'll be back in 2014.
Additional sets by Andy Ferrall, Ben Knight and The Well Diggers, Pat Spencer and Peggy Ratusz rounded out a stellar line-up for 2013.
During the entire Festival the front gate was managed with grace and aplomb by the venerable Bamboo Bill whom the Festival organizers hope to have back in 20144 - he was a Festival Favorite!
_____________________________________________________________________________
The Johnson City Folk Festival, Inc. © 2011, All Rights Reserved. Respective trademark and copyright laws protect the Johnson City Folk Festival and The Chet Atkins Guitar Competition. The Johnson City Folk Festival can be reached at 202-255-1995, All correspondence should be directed to: The Johnson City Folk Festival in Unicoi, TN
106 Unicoi Village Place, Unicoi, TN 37692-0039