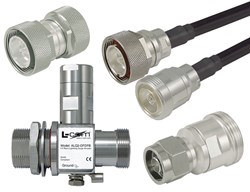 We are seeing more demand for connectivity products with the 7/16 DIN interface. To address this demand we now offer a complete line of 7/16 connectivity products for our customers. - Ken Burgner, Product Manager
North Andover, MA (PRWEB) December 26, 2013
L-com, Inc., a designer and manufacturer of wired and wireless connectivity products, announced today that it has released a full line of 50 Ohm 7/16 DIN coaxial products. Widely used in high power wireless communication systems such as cellular network antenna systems, these robust coax products are designed for the harshest environments.
L-com's 7/16 DIN product line includes connectors for 400 and 600 series low loss cable, within series and interseries adapters, caps, 400-series and 600-series cable assemblies and 1/4 wave coaxial lightning protectors. Competitively priced, these new products are in stock and available for shipment. Additionally, custom versions of the cable assemblies are available.
"As the use of the high power communications applications continues to grow in the U.S. we are seeing more demand for connectivity products with the 7/16 DIN interface. To address this demand we now offer a complete line of 7/16 connectivity products for our customers," said Ken Burgner, Product Manager.
For a high-res version of this image suitable for print publication click on the link below:
http://www.l-com.com//lcom_emails/2013/122613/coax-din_group.jpg
For more information about this release, please contact:
Peter McNeil, Product Marketing Manager
978-682-6936 x1450, pmcneil(at)l-com(dot)com
L-com®, a global designer and manufacturer of wired and wireless connectivity products, offers a wide range of solutions and unmatched customer service for the audio/video, OEM, military/aerospace, IT, and wireless RF industries. The company's product portfolio includes cable assemblies, connectors, adapters, computer networking components, and custom products, as well as the HyperLink® line of wireless antennas, amplifiers, filters/splitters, lightning protectors, weatherproof enclosures, and much more. Trusted for more than 30 years, L-com, Inc. is headquartered in North Andover, Massachusetts, USA, and is ISO 9001: 2008-certified. For more information, please visit: http://www.L-com.com/.
###