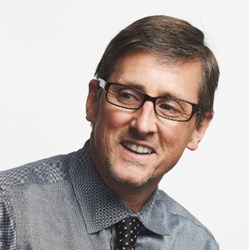 Phillips, a former Leo Burnett and Digitas creative leader, has elevated nFusion's creative product and aims to build on cross-channel campaign approach.
Austin, TX (PRWEB) December 09, 2013
Digital marketing agency nFusion promoted Bass Phillips to VP, executive creative director. Phillips has led nFusion's creative product for national brands, including Samsung, SanDisk, Anheuser-Busch/InBev and Best Buy for the past two years.
"Bass' brand of thinking has elevated our creative work and campaign effectiveness," says nFusion CEO John Ellett. "Clients embrace Bass' creative team's concepts, which are guided with business acumen and transcend communication channel silos. And that translates to more engaged customers for our clients."
Before nFusion, Phillips was a group creative director at Leo Burnett in Chicago where he led work for Purina brands as well as Kellogg's. Phillips is also a Digitas ex-pat creative director and was responsible for UBS and Sprint creative. His portfolio includes work from time at Adobe as a brand planner and strategist; USwebCKS where he worked on CNN, JC Penney and Williams Sonoma; and at GMO where he worked on Kia Motors and Dell.
As nFusion's executive creative director Phillips aims help more brands recognize the value of converged campaigns by creating paid, owned and earned experiences based on a single, unifying idea.
"Brands that really evaluate the customer experience and consider how creative can effectively enhance that experience are the ones leveraging digital media properly," Phillips shared.
Later this month Phillips, Ellett and Steve Callahan, nFusion's vice president of interactive planning and digital operations, will publish a five-step guide for marketers to create customer experiences that matter. To sign up for an advance copy, please visit http://info.nfusion.com/customer-experience.
ABOUT NFUSION
nFusion is a digital marketing agency that partners with marketing change agents to revitalize brands, transform a company's digital presence and accelerate sales.With an agile and collaborative approach, nFusion's team of multi-disciplinary specialists helps brands maximize the effectiveness of paid, owned and earned media, so marketers can make an immediate and measurable impact. Headquartered in Austin, Texas, nFusion's B2B and B2C clients include AMD, CiCi's Pizza, Comerica Bank, Rush Enterprises, Samsung, SanDisk, Sonus Networks and Zimmer Spine. nFusion can be found online at nfusion.com, and on LinkedIn, Facebook and Twitter.