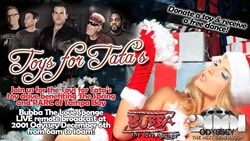 Tampa, Florida (PRWEB) December 05, 2013
Featuring Bubba & Crew Live Remote and the World Famous 2001 Odyssey Entertainers
2001 Odyssey/Bubba are proud to bring Toys for Tata's to the World Famous 2001 Odyssey Strip Club for The Thirteenth Year in a Row. Toys for Tata's Will consist of a drive through strip club where vehicles enter a massive circus tent erected in the front parking lot of this world famous landmark club. Drivers and passengers of such vehicles are allowed to enter by providing a new unwrapped toy of ten dollar value or more or a ten dollar cash donation. Upon entering the tent each vehicle is approached by Entertainers of the Club for a Private Performance.
All Proceeds go to The Spring of Tampa (domestic violence center), PARC (Pinellas Association for Retarded Children) and Without Walls International Church.
Times are tough for everyone, these tough times are felt especially hard during the holiday season. This great event helps to at the very minimum put some smiles on some faces…especially the children who receive the toys!
2001 Odyssey
This press release was published by Michelle Germann from Assorted Design.