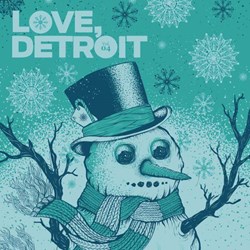 Detroit, MI (PRWEB) December 06, 2013
Boosting some of the city's best musical talent, Team Detroit is releasing Love Detroit, a compilation of free music downloads for the holidays on December 6. Partnering with the not-for-profit The Children's Center, Team Detroit, the city's largest advertising agency, is offering a different way to give and give back during the season of giving with free music tracks that are intended to inspire recipients to make small and even large donations to The Children's Center after each free download is complete. The music will be available on December 6 at http://www.love-detroit.com.
The five tracks that make up Love Detroit encapsulate classic Detroit sounds: stark, elegant and dramatic music that work through several narratives about this fascinating city. Featuring music by Malo Konchje, El Dee, Trevor Naud, Turn To Crime, and Cold Men Young, each band has recorded a cover or created an original track for the Love Detroit holiday compilation. The songs show that there are many sides to every city.
The Children's Center, located in downtown Detroit has been helping children and families shape their own futures. They are leading the way in providing an integrated approach to community mental health that treats the whole child and the whole family. Together with many community partners, The Children's Center offers meaningful solutions that address mental, physical and behavioral health, abuse and neglect, and poverty challenges currently faced by over 100,000 children in the Greater Detroit area.
Team Detroit is the new model for the full-service advertising agency, giving its clients access to the breadth of WPP's talent, ideas and best practices. Founded by integrating five of WPP's largest marketing and communications agencies within one company, Team Detroit masters the intersection of business and almost everything imaginable – technology, digital media innovation, pop culture, design, big data, social trends – both locally and globally. Team Detroit has 36 offices across the US and employs over 1,600 employees worldwide, working for clients such as Ford Motor Company, Ford Dealers, Johnson Controls, United Way for Southeast Michigan, the Detroit Symphony Orchestra and the College for Creative Studies.