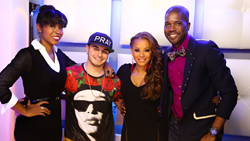 Los Angeles, CA (PRWEB) December 06, 2013
Melanie Brown, aka Mel B, appeared on Black Hollywood Live's Portraits interview series, talking about her on-camera and off camera relationship with America's Got Talent co-star Howie Mandel, auditioning for Simon Cowell, her perspectives on being the only African American in an international pop band and her secret love for male groupies!
Mel B recently confirmed that she would be coming back to NBC's America's Got Talent for Season 9 along with Howard Stern, Howie Mandel, Heidi Klum and Nick Cannon.
Mel B describes her relationships with NBC's America's Got Talent judge Howie Mandel:
"Howie's just a nut case. He's constantly washing his hands. I don't really believe he's got that much of a disorder cause I saw him eating some of my pizza the other day and nobody eats somebody else's half eaten pizza. So I don't believe that and I told him that," reveals Mel B.
Before becoming a global phenomenon, The Spice Girls stormed into record companies and dropped acapellas in front of well known music executives, such as Simon Cowell. Mel B says, "It was an unannounced kind of meeting, we just barged in their with some type of acappella tune and [Simon] goes, 'It's not really gonna work' and we were like fine…we will just find someone else then..and it kind of snow balled from there and people started talking about us."
Mel B also discusses being the only "woman of color" in The Spice Girls. She says, "I knew already that I looked different and I completely embraced it."
She later talks about her naughty experiences with male groupies citing, "I wasn't going to bed…I was the naughty one of the group. My room was popping."
During the 90's, The Spice Girls promoted confident images for young girls and women. Mel B states, "We knew exactly what we wanted and luckily back then, the record company that we were with and the people that we were with listened to us, it wasn't like we were even told what to say, what to do, when to go…we literally said..ok we want tot go to Japan next, we want to go to America, this is what we are going to do, for our 1st, 2nd & 3rd single…and this is the kind of idea and direction we want our video to go in. We were much hands on."
"With their high energy, positive images and attitude...The Spice Girls caught the eye of not only young girls and women…they also had several celebrity fans." Mel B adds, "I remember a Rolling Stone guy compared us to heroine. Everyone knows about it, but nobody talks about it. Like we are everyone's secret guilty pleasure, or was back then."
Links to Mel B's full appearance can be found at:
Website: http://blackhollywoodlive.com/2013/11/28/mel-b-bhl-portraits/
iTunes: https://itunes.apple.com/us/podcast/black-hollywood-live-portaits
YouTube: http://www.youtube.com/watch?v=tCxS4xD4d9s
Black Hollywood Lives' Portraits show, hosted by Derrial Christon, Jesse Janedy and Courtney Stewart airs live Fridays and is available for download the next day on iTunes and BlackHollywoodLive.com. Past guests for the show include hosts Wayne Brady, Sherri Shepherd, actors Bill Duke, Alfonso Ribeiro, Ruben Santiago-Hudson and Tahj Mowry, director Tim Story and model/actor Boris Kodjoe. Black Hollywood Live is the world's first online broadcast network dedicated to African American entertainment news. BHL programming features inside information, insightful commentary, and in-depth interviews with Hollywood's biggest stars and influencers. For further information about the network, visit BlackHollywoodLive.com