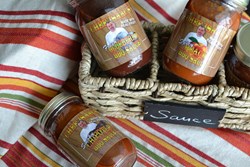 These sauces are unique, full of flavor, and reflect a great deal of my personality.
Burlingame, CA (PRWEB) December 12, 2013
Chef Isaac Scuitto of Cooking With Isaac today announced that his three homemade BBQ sauces are now available for purchase on cookingwithisaac.com, Buyer's Best Friend, and at select local grocery markets in the San Francisco Bay Area.
Whether you are a home chef, a backyard barbecue enthusiast, or a professional chef looking to spice up your restaurant's protein flavor, Chef Isaac has a sauce to suit your tastes. All three are homemade and contain real fruit or peppers, and add the perfect flavor to chicken, beef, fish or pork.
"Barbecuing has always been one of my passions, and I wanted to come up with some fresh, new, flavorful sauces to add to the experience," says Chef Isaac. "These sauces are definitely fresh, unique-tasting, full of flavor and reflect a great deal of my personality."
When not creating his BBQ sauces, Chef Isaac is a cooking instructor and personal chef who loves to teach his craft to aspiring home chefs, as well as cater his clients' dinner parties. His business, Cooking With Isaac, is making a name for itself in the Bay Area with its in-home cooking classes and catering services.
Chef Isaac's BBQ Sauces will also be featured at the Winter Fancy Food Show at the Moscone Center in San Francisco, from January 19th to the 21st.
To order Chef Isaac's BBQ Sauces, visit http://www.cookingwithisaac.com. The sauces are $7 each, with a 3-pack for $20. Wholesale pricing is available for bulk purchases - contact Chef Isaac directly at iscuitto(at)gmail(dot)com.