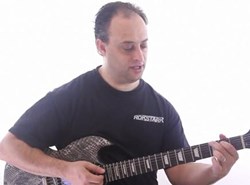 (PRWEB) December 06, 2013
In this guitar lesson, now available on YouTube.com, Claude Johnson teaches a method he uses to play some of your favorite songs on the guitar.
Claude starts off this lesson by explaining a system he uses for learning and playing songs on the guitar. "I've created what I call the 1-2-3 system or 1-2-3 formula," says Johnson. Claude explains it as this; step one, learn the basic chords because they are the fundamental building blocks, step two, learn to play chord progressions, which is several chords played consecutively in a rhythm, and step three, learn to play your favorite songs by combining chord progressions, such as the chord progression for the verse of a song and a different chord progression for the chorus of the song. Claude also says it's important to add the vocal melody or what is being sung on top of the chords. Claude uses the song Knockin on Heavens Door by Bob Dylan as an example, which consists of the chords G, D, and Am, Johnson demonstrates using the open positions of all three chords. Next Claude demonstrates the chord progression and strumming pattern or rhythm, he first plays G as two down strokes for beats 1 & 2 and follows that with D as two down strokes for beats 3 & 4, and then he plays Am as two down strokes for beats 1 & 2 and one down stroke followed by an up stroke for beat three (3 &) and then quickly does down-up-down-up strokes for beat 4 (4-e-&-a). Finally Johnson says that "you don't have to be a great singer to play and sing a song," he says that having the vocal melody over the song helps tie it together. You can go to GuitarControl.com/beginner to see Johnson cover 75 songs using this process.
Claude Johnson
Claude Johnson, a native of Philadelphia PA, began playing guitar in 1990 after being inspired by players like Jimi Hendrix, Eric Clapton, and Stevie Ray Vaughn. He is the creator of GuitarControl.com and has helped 1000's of people to learn to play the guitar with his critically acclaimed instructional DVD courses, all available at GuitarControl.com
About GuitarControl.com
GuitarControl.com is the leader in modern guitar instruction. It's packed with recourses including articles, video lessons, and the best videos in the business for the beginner to the advanced guitar student taught by the best instructors out there. Weather you are into the blues, rock, jazz, metal, folk, or anything in between, they have you covered.