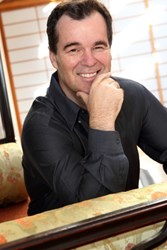 If we're buying houses for a dollar or a pound, to me that's a boom.
(PRWEB) December 06, 2013
The commencement of Australia's current property boom has been discussed by real estate authority, Rick Otton, during a new Creative Real Estate podcast on 'Street Smart Secrets to Real Estate Wealth'. Known for challenging the property investment status quo, in the podcast, Mr Otton suggests ways that people can invest now by using innovative property investment techniques that do away with the need for bank involvement.
The 'boom' Mr Otton believes is in its early stages, yet industry experts and the media suggest it may really take off in coming months.
"Is the boom coming from the fact that prior to this year's Federal Election we had no market activity for six months? We are having some activity in house clearances, but I'm not suddenly seeing prices jump up," he said.
Mr Otton said there were a number of strategies that aspiring property owners can implement right now, but he does caution them on over-extending themselves to bank loans.
"Interest rates are very low in Australia right now, but that won't always be the case" he said. "What happens when interest rates go back up?"
"Let's say you're getting a home loan today at 4% and interest rates go up 1%, that's a 25% increase in your mortgage payment," he said.
Mr Otton said a planned introduction of the credit code in the first quarter of 2014 might also impact the 'boom'.
"For the first time in Australia's history, banks and financiers can see how much debt the average Australian is in," he explained.
"Overnight, the brakes may go on lending. If the banks lend money to people knowing they have poor credit report ratings, and the people default on the home loans, then those banks could be held liable for irresponsible lending."
The real estate authority urges all investors, and those looking to buy a home, to consider all of the options available to them - including the more modern strategies that don't require saving for a big deposit and going to a bank for a home loan.
Power Property Profits Pack
Mr Otton, who for almost two decades, has been holding ultimate wealth summits and real estate investing seminars for property investors, said the key to long-term success was to use out-of-the-mould low-risk, high-reward strategies.
"It doesn't matter if there's a boom or not if you're picking up people's loans who can no longer afford to pay them, and you're getting into property with no money but instead just transferring the paperwork," he said.
"You're building your property portfolio on other people's debt. If we're buying houses for a dollar or a pound, to me that's a boom."
He said anyone serious about busting out of the boom-bust belief could access his Power Property Profits Pack on his website on http://www.CreativeRealEstate.com.au/FreePack
The pack offers a toolkit of educational tools with tips on buying a house without a bank, turning negative cash flow into positive and more.
To hear this, and other podcasts from Rick Otton visit CreativeRealEstate.com.au.
About Rick Otton
Australian property investment specialist, Rick Otton, has been developing, sharing and teaching his innovative real estate strategies for 23 years. As the founder and CEO of We Buy Houses, which operates in the US, UK, Australia and New Zealand he is known for introducing cutting-edge techniques that have enabled previously disenfranchised people to get out of the rental cycle and into their own homes.
His innovative low-risk, high-reward approach to Australian real estate investing has been featured in a variety of television programs and magazines, including Today Tonight, Hot Property and Australian Property Investor. His real estate book, published in 2012, ''How To Buy A House For A Dollar', voted by Money Magazine and Dymocks Book stores as one of the Top 10 Most Popular Finance Titles for 2013.
As well as conducting free seminars, workshops and conferences in the UK and Australia, Mr Otton releases a weekly podcast on iTunes, Creative Real Estate. In these he shares examples of real transactions, and you can listen to his students share their own experiences using his strategies.
Go to CreativeRealEstate.com.au to listen to Rick's free podcasts.