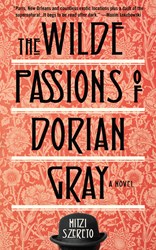 Mitzi Szereto writes this compelling story with poetic fluency. Wilde Passions of Dorian Gray is a hedonistic rush that doesn't shy away from the darker side of passion. I loved it!—Sam Stone (author of The Vampire Gene Series
(PRWEB) December 06, 2013
From the author of the extremely controversial Pride and Prejudice: Hidden Lusts comes The Wilde Passions of Dorian Gray: A Novel. USA Today featured the multi-genre piece on Happily Ever After, interviewing Mitzi Szereto on the inspiration behind the novel and Dorian Gray as a character. Szereto explores the appeal and danger of a man like Dorian, saying "in the real world Dorian is the sort of fellow you'd be wise to run a mile from, especially if you don't fancy being hurt. You see, men like Dorian only love themselves." Szereto spoke on air about Dorian and her writing on Webbweaver Books Radio. The Wilde Passions of Dorian Gray is sure to be the most controversial of Szereto's works to date, with boundary-pushing, no-holds-barred exploration of the darker side of desire.
What People are Saying about The Wilde Passions of Dorian Gray:
A debauched adventure through time and decadence! Szereto brings an authentically 'classic' voice to this modern tale of Dorian Gray."
—John Everson, author of Siren
"A hedonistic rush that doesn't shy away from the darker side of passion. I loved it!"
—Sam Stone, author of the Vampire Gene series
What If Dorian Gray Faked His Death and Led a Secret Life?
Inspired by Oscar Wilde's classic novel The Picture of Dorian Gray, Mitzi Szereto continues where Wilde left off in her Faustian tale of a man with eternal youth and great physical beauty who lives a life of corruption, decadence and hedonism. The story begins in the bordellos of Jazz-Age Paris, moving to the opium dens of Marrakesh and the alluring anonymity of South America. Will love be Dorian's redemption or his final curse? Only Mitzi Szereto, author of Pride and Prejudice: Hidden Lusts, would dare write a sequel to Oscar Wilde's great literary classic.
Mitzi Szereto is an author and anthology editor of erotic and multi-genre fiction and nonfiction. Her books include Red Velvet and Absinthe, In Sleeping Beauty's Bed, and Pride and Prejudice: Hidden Lusts. She divides her time between England and Atlanta, GA.