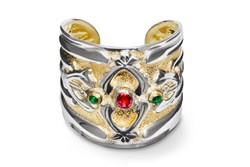 Repousse' silver cuffs have all the romance of a fine antique in new, highly wearable luxury silver jewelry.
Baltimore, MD (PRWEB) December 18, 2013
Just as Christmas jewelry buying has entered full swing, Repousse' Jewelry has added one of the most prestigious jewelers in the South to its retailer roster. Donald Haack Diamonds in Charlotte, North Carolina, carries the state's finest diamond jewelry and luxury designer lines such as Alex Sepkus.
According to Julie Haack, the store's president and daughter of founder Donald Haack whose career began in the diamond mines of British Guiana, "Repousse' has long been a Carolina tradition as many families have collected beautiful sterling table pieces and estate jewelry for generations. This collection has all the romance and artistic expertise of a fine antique, but offers that elegance in new, highly wearable, luxury silver jewelry."
The made-in-the-USA imprimatur has been a key selling factor for the line, handcrafted in Long Island City, NY, by renowned silver artist Michael Galmer whose career includes a 20-year tenure creating complex pieces for Tiffany & Co. The collection, Repousse' Jewelry by Galmer, features exquisitely detailed sterling cuff bracelets, earrings, rings and pendants.
Donald Haack is one of only a handful of fine jewelry stores now carrying Repousse' Jewelry by Galmer. "Our pieces' floral motifs are classic with a bold sophistication that's perfect for Charlotte women and this distinctive store," says Carolyn O'Keefe, managing partner of Repousse' Jewelry. The company's silver cuffs are the bedrock of the line, known as "forever" cuffs because of their enduring sophistication and wearability for every occasion through generations.
The repousse' silvermaking technique was most popular during America's gilded age at the turn of the century. The technique is an extensive process from artist's sketch, to clay, to creation of a steel mold that is then used to "push from the back" of a piece of fine quality silver. After the initial molding, the artisan then uses special tools to refine and engrave the front of the jewelry. The effect is richly sculptural with miniscule detail which becomes more evident with age.
The company's tag line is "new works of enduring worth" to showcase the heirloom quality of each piece. Five factors are characteristics of a future heirloom.

The artist's body of work or lineage such as Galmer's 20-year history with Tiffany and tabletop pieces collected by connoisseurs worldwide.
The artist's hallmark for future generations to understand the value of its source.
The handcrafting, as factory-generated pieces will never achieve the value of works by hand.
The expertise in fine details, immediately recognizable at first sight.
The quality of the silver, immediately known by touching the silver and feeling its perfect weight on your arm.
Collections include pieces in motifs of Chrysanthemum, Peony, Palm and Bamboo as well as classic cuffs such as The Daisy Cuff, The Magnolia Cuff and The Cherry Blossom Cuff. Donald Haack has selected an array keeping in mind Charlotte's own stylish women who grace the store. However, anyone looking at the company's web site http://www.repoussejewelry.com can order pieces through Haack.
Repousse' Jewelry by Galmer is sold through its web site http://www.repoussejewelry.com and through stores including Tiny Jewel Box, DC; Works Gallery, NYC; Sylvan & DuBose, Columbia, SC; Radcliffe Jewelers, Baltimore; and Sharfman Jewelers, MA. Led by managing partner Carolyn O'Keefe and designing partner Michael Izrael Galmer, the company debuted its collection at the 2011 Luxury Prive' Show at The Pierre in NYC.