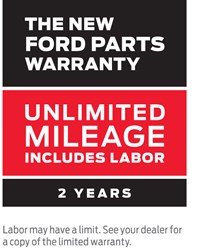 For current Ford extended warranty policyholders this is great news
Barkhamsted, CT (PRWEB) December 10, 2013
The Ford Motor Company continues to exhibit leadership and go further in the automotive industry by announcing a new parts warranty for retail part purchases. Early in the fourth quarter of 2013, Ford made another bold business move by increasing the Service Parts Warranty (SPW) coverage for customer paid purchases of Genuine Ford and Motorcraft parts from 12 months or 12,000 miles to 24 months and unlimited miles. This 24 month unlimited miles SPW is one of the most comprehensive in the industry showing that Ford is resolute in providing consumers with peace of mind assurance.
The new Service Parts Warranty also offers great value to Fleet Owners, with no commercial exceptions, and Installers who purchase and install Genuine Ford and Motorcraft parts because it provides reimbursement of labor costs up to $150.00 per repair. Also, the new SPW applies to Ford branded accessories installed by a Ford dealer on a vehicle while it is within the new vehicle limited warranty period.
Jack Guisti, Jr., the Ford ESP Internet Department Manager at Lombard Ford saw the significance of this change and wanted to focus attention on the positive effect this will have upon Ford ESP policyholders as well as update consumers on how to benefit from this warranty change. He said, "For current Ford extended warranty policyholders this is great news, the new SPW means there is a longer coverage period of protection on the parts replaced under a ESP repair claim made to a Ford, Lincoln or Mercury vehicle that was completed on or after October 1, 2013."
For example, if there is a 7 year PremiumCare protection plan on a 2007 Ford Fusion which is set to expire on January 15, 2014 or at 100,000 miles. On December 20, 2013 at 94,321 miles the Fusion needed to have the air conditioner compressor replaced by the local Ford dealer. The ESP Premiumcare covers that repair and the owner only pays his plan's standard $100.00 deductible.
Here is where the enhanced value occurs via the change made to the SPW. Even though the Ford ESP coverage will expire on January 15, 2014, the air conditioner compressor now has a service part warranty on it for 2 years unlimited miles. That means if the air conditioner compressor fails within the next two years due to a defect in materials or workmanship, the part and the labor will be covered at no charge to the customer because a Ford dealer performed the repair with genuine Ford parts. Another great thing about the SPW is that it can be honored by any Ford dealer in the U.S. or Canada.
It is important that Ford, Lincoln and Mercury owners become aware of this new SPW, so as not to unknowingly pay for a future repair on a component that would have been covered by this new parts warranty. Even if a consumer may not have a Ford ESP protection plan on their vehicle that would pay for the repair, they can still get the peace of mind offered by the new SPW by having needed repairs done at the local Ford dealer.
It is understood that not every Ford owner will bring their vehicle to the Ford dealer when it needs a repair, but now there is a good reason to re-think that strategy. Regardless of the decision, a consumer can still receive some peace of mind by insisting that the auto shop they do frequent use Genuine Ford or Motorcraft parts purchased from a Ford dealer.
Additionally, it is imperative the consumer keep all original repair invoices and/or parts receipts which must be provided when repairs under the SPW are requested. In general, it is a good habit to keep a folder of all vehicle maintenance, parts, accessory and repair invoices or receipts in a safe and accessible location should the need ever arise to provide proper documentation to support any type of repair claim whether it be a new vehicle warranty, ESP, or SPW claim.
To explore the affordability and benefits provided by a Ford ESP plan call toll free 1-888-743-4668.
About Lombard Ford, Inc.:
Lombard Ford, Inc. is an award winning Ford dealer in Northwestern, CT since 1982. Their Internet ESP office is staffed with courteous and knowledgeable personnel who have first-hand working experience in a variety of positions within the industry such as, automotive service advising and service management, new and used vehicle sales, vehicle sales management, finance and insurance sales and customer service and sales support. For more information, visit http://www.lombardfordwarrantys.com.