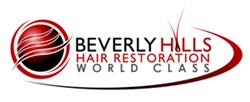 Since 2007, Beverly Hills Hair Restoration has been delivering the best in hair restoration.
Beverly Hills, California (PRWEB) December 24, 2013
Beverly Hills Hair Restoration a Los Angeles hair transplant clinic has just reached an impressive milestone: hair loss specialist Dr. John Kahen has transplanted more than 10 million hair follicles in the last six years! Since opening the clinic in 2007, patients from all over the world have discovered Dr. Kahen's comfortable facility. One key reason for Beverly Hills Hair Restoration's on-going success and high number of procedures is its exceptional staff and highly trained technicians. As noted on its web site, this clinic is known for its world class unparalleled, natural results.
Anyone who would like to learn more about Beverly Hills Hair Restoration is welcome to visit the facility's easy-to-navigate website; there, they can read more about the various hair restoration procedures offered http://www.BeverlyHillsHR.com.
Beverly Hills Hair Restoration
Since 2007, Beverly Hills Hair Restoration has been performing hair transplant surgery using the most advanced technique in hair restoration surgery. It is widely known as the premiere world class hair clinic in Beverly Hills, as our specialist has successfully performed thousands of hair restoration surgeries since opening the center. The hair center takes pride in the results delivered and pays personal attention to each patient, and makes sure each hair transplanted is of exceptional quality. Patients of Beverly Hills Hair Restoration are proud to show off a head of hair with no visible sign of having had a procedure.
About Beverly Hills Hair Restoration
Beverly Hills Hair Restoration founded by renowned hair transplant surgeon Dr. John Kahen, M.D. is a world class hair loss treatment center for men and women focused and dedicated solely to the practice of hair transplant surgery and hair loss prevention. A clinic that is dedicated to achieving results using the latest techniques and innovations in hair restoration surgery. Our dedication to hair restoration means that our patients get the most advanced techniques, a natural hair transplant and the easiest recovery. Our clinic prides itself on accomplishing aesthetic density that yields natural results.