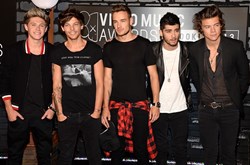 San Francisco, CA (PRWEB) December 06, 2013
Now is the time to get the best One Direction concert tickets for the "Where We Are" tour in the summer of 2014 from San Francisco Bay Area ticket broker TopNotchSeats.com. One Direction is gaining ground as one of the best bands today. From their breakout appearance on the television show "The X Factor," the boys from London are continuing a proud heritage of music that brought us the likes of the Beatles, the Rolling Stones and Led Zepplin.
In just three short years, members Niall Horan, Zayn Malik, Liam Payne, Harry Styles and Louis Tomlinson have sold an amazing 10 million albums, and more than 19 million singles. They have been dubbed the start of a new "British Invasion" and they have cemented their place in the entertainment industry by garnering dozens of awards, including "Billboard's Top New Artist" award for 2012.
"Now you can be a part of this exciting music experience when you attend the new One Direction concert when it comes to your city in 2014," said Paul Hillig of Top Notch Seats.
The "Where We Are" tour kicks off its North American leg in Toronto on August 1, 2014, making its way down the Eastern coastline through New Jersey and Washington DC. There are dates all along the East Coast throughout August 2014 and then crossing the heartland through Michigan, Chicago, Tennessee and Texas. In September 2014, Southern California fans will be delighted by the coming concert dates at the Rose Bowl in Pasadena, and Arizona fans can get their One Direction concert tickets fix at the University of Phoenix Stadium.
About Top Notch Seats Concert Tickets
Top Notch Seats is a member of NATB and the Better Business Bureau. They have been providing the best in ticket service to concert goers since 1993, and offer top quality service for the biggest and best concerts like the "Where We Are" One Direction tickets available now. Our company specializes in the best seats in the house, even when concerts are deemed sold out. With upfront seating in the first 10 rows, One Direction fans will be able to see the boys up close as they perform their favorite songs, so reserve your tickets today.
For more information about One Direction concert tickets, visit http://www.topnotchseats.com.
About Top Notch Seats
Operating from the heart of Silicon Valley since 1993, Top Notch Seats is an online leader in secure ticket sales. TNS supplies audiences with quality seating and tickets to all major concerts, theatre and sports events in the Bay Area and around the nation.
Top Notch Seats specializes in providing Bay Area concert tickets with a wide variety of seating options, which enables customers to choose their favorite vantage point. TNS is a licensed Bay Area ticket broker engaged in the business of buying and selling first-rate tickets. They do not sell tickets at face value; ticket prices are often well above face value and reflect the cost of obtaining quality seating.